Just Announced: CableFAX Expands Tech Coverage in Multiplatform Initiative

Sign up for The Skinny from CableFAX - Free Weekly Eletter
Awards --
Call for Entries & Events:

CableFAX Leadership Roundtable
June 10

CableFAX Tech Breakfast
June 12

CableFAX Program Awards
Call for Entries: June 21
Enter today!

CableFAXIES & Sales Executive of the Year Awards Breakfast
June 24
Register today!

Complete List of Events
Webinars:

Vine, Viggle, GetGlue:
Leveraging the Newest Social Media Apps to Drive Engagement and Brand Awareness
On-Demand

Capitalizing on Cloud Management and Navigation
Video On Demand Next Practices: Capitalizing on the Latest Innovations
On Demand
Killer Cable Apps: Using Online Games and Apps to Drive Consumer Engagement
On Demand
---
---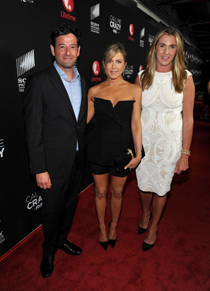 CALL ME CRAZY. On April 16, 2013, Lifetime and Sony Pictures Television held a premiere event for the Lifetime Original Movie "CALL Me Crazy: A Five Film" at the Pacific Design Center in Los Angeles. L to R: Rob Sharenow, evp, Programming, Lifetime Networks; Jennifer Aniston, Executive Producer of "Call Me Crazy"; and Nancy Dubuc, pres, Entertainment and Media, A+E Nets. Debuts April 20, 8pm. Photo by John Shearer/Invision for Lifetime/AP Images.





December 5, 2012

Global Connections 12/5/12

India's Reliance Globalcom upgraded its FNAL backhaul network in the Asia region with next-gen optical-transport technology from Ciena Corporation. Deployment of Ciena's 6500 Packet-Optical Platform equipped with WaveLogic coherent optical processors better boosts the operator's ability to offer 40 Gb/s OTN-based wavelengths across FNAL subsea segments, and between its Taipei and Seoul points of presence. Reliance says it now can offer bandwidth speeds ranging from 1 Gb/s to 40 Gb/s, with an option for 2.5 Gb/s and 10 Gb/s between its PoP locations...Telefónica tapped Alcatel-Lucent to enhance its IP networks, initially in Argentina and in the Czech Republic, with the Alcatel-Lucent 7950 Extensible Routing System (XRS); the operator reportedly is one of the first to use this core router…Cable & Wireless Communication's (CWC) Caribbean division, LIME, is using the FusionTV solution from Hybrid-TV and connected-home solutions provider Entone Inc. to power what LIME says is the world's first premium pay-TV service delivered over the Internet. By connecting an Entone Hybrid TV device to a broadband network, LIME subscribers can access more than 130 channels and can stream on-demand services via a seamless user interface…NetCracker is on a tear, deploying its FiberOP FTTH BSS/OSS solution to Canada's Bell Aliant, its converged billing/customer-care solution to Israel's Yes satellite-TV provider and its TOMS (Telecom Operations and Management Solution) software with Canada's Videotron telecom operator.