Sign up for The Skinny from CableFAX - Free Weekly Eletter
Awards --
Call for Entries & Events:

CableFAX Most Powerful Women & Most Influential Minorities in Cable
Deadline: May 17
Free to Nominate

CableFAX Program Awards
Call for Entries: June 21
Enter today!

CableFAXIES & Sales Executive of the Year Awards Breakfast
June 24
Register today!

Complete List of Events

Webinars:

Vine, Viggle, GetGlue:
Leveraging the Newest Social Media Apps to Drive Engagement and Brand Awareness
On-Demand

Capitalizing on Cloud Management and Navigation

Video On Demand Next Practices: Capitalizing on the Latest Innovations
On Demand

Killer Cable Apps: Using Online Games and Apps to Drive Consumer Engagement
On Demand


---
---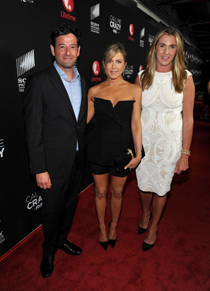 CALL ME CRAZY. On April 16, 2013, Lifetime and Sony Pictures Television held a premiere event for the Lifetime Original Movie "CALL Me Crazy: A Five Film" at the Pacific Design Center in Los Angeles. L to R: Rob Sharenow, evp, Programming, Lifetime Networks; Jennifer Aniston, Executive Producer of "Call Me Crazy"; and Nancy Dubuc, pres, Entertainment and Media, A+E Nets. Debuts April 20, 8pm. Photo by John Shearer/Invision for Lifetime/AP Images.





December 4, 2012

Global Connections 12/04/12

NTT Communications (NTT Com) joined the ArrowSphere cloud services platform, a service from Arrow Enterprise Computing Solutions (Arrow ECS), the business segment of Arrow Electronics Inc. Through this agreement, NTT Com's Compute Cloud solution will be available to the Arrow ECS reseller network, starting with the U.K., France, Germany, Spain and Denmark…Swedish pay-TV, broadband and fixed-telephony provider Com Hem is using Harmonic's NSG 9000 HectoQAM solution as its service edgeQAM to increase the speed of its data services and to add a new multiscreen services based on TiVo technology…Cable & Wireless Communications is one of the founding members of a consortium aiming to build a new submarine cable system that could increase access to fast broadband and pay-TV in the Caribbean, Central and South America. The Pacific Caribbean Cable System (PCCS) will span 6,000 kilometers from Jacksonville, Fla., to Manta, Ecuador. The cable will have landing stations in the islands of Tortola in the British Virgin Islands, Puerto Rico, Aruba and Curacao as well as Cartagena in Colombia, and Maria Chiquita and Balboa in Panama. Alcatel-Lucent will deploy the cable, and work will start before the end of the year. The system could cut over sometime in 3Q14. Other consortium members include Setar, Telconet, Telefonica Global Solutions and United Telecommunication Services…Alcatel-Lucent is providing proactive monitoring for the optical network of Indonesia-based wireless provider Telkomsel. The initial deal has the partners focusing on video, high-speed Internet access and other applications.