Just Announced: CableFAX Expands Tech Coverage in Multiplatform Initiative

Sign up for The Skinny from CableFAX - Free Weekly Eletter
Awards --
Call for Entries & Events:

CableFAX Leadership Roundtable
June 10

CableFAX Tech Breakfast
June 12

CableFAX Program Awards
Call for Entries: June 21
Enter today!

CableFAXIES & Sales Executive of the Year Awards Breakfast
June 24
Register today!

Complete List of Events
Webinars:

Vine, Viggle, GetGlue:
Leveraging the Newest Social Media Apps to Drive Engagement and Brand Awareness
On-Demand

Capitalizing on Cloud Management and Navigation
Video On Demand Next Practices: Capitalizing on the Latest Innovations
On Demand
Killer Cable Apps: Using Online Games and Apps to Drive Consumer Engagement
On Demand
---
---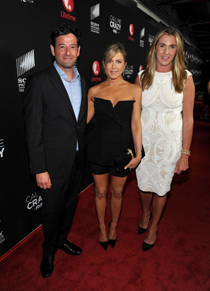 CALL ME CRAZY. On April 16, 2013, Lifetime and Sony Pictures Television held a premiere event for the Lifetime Original Movie "CALL Me Crazy: A Five Film" at the Pacific Design Center in Los Angeles. L to R: Rob Sharenow, evp, Programming, Lifetime Networks; Jennifer Aniston, Executive Producer of "Call Me Crazy"; and Nancy Dubuc, pres, Entertainment and Media, A+E Nets. Debuts April 20, 8pm. Photo by John Shearer/Invision for Lifetime/AP Images.





September 25, 2012

Deals Of The Day 09/25/12

Golden West Telecommunications, a provider of voice, data and cable TV services in South Dakota, deployed the NetOmnia suite of solutions from service assurance/quality developer Centina Systems. The operator will use the NetOmnia Operations Assurance, Service Assurance and Performance Assurance products to monitor its wireline network and to provide real-time visualization of customer broadband service performance for its ISP business… Frontier Communications Corporation installed the BSS/OSS solution Triad from Enhanced Telecommunications' ETI Software Solutions Inc. to support its fiber-to-the-home (FTTH) network in Frontier FiOS markets in Oregon; Washington; South Carolina; and Fort Wayne, Ind. Triad took control of Frontier's FTTH platforms provided by Motorola (AXS Vision) and Alcatel (GPON) and Frontier's Motorola (DAC) and SeaChange (VOD) RF video technologies. ETI also added interfaces to support Tellabs (BPON) and the Juniper service router interface, and it implemented audit capabilities to both Alcatel and Motorola FTTH networks to identify mismatches between the billing data and the current provision state of the ONTs…Taqua LLC, a maker of small-cell and convergence-switching solutions, teamed with Public Wireless, a developer of outdoor small cells, to develop an outdoor small-cell scheme at reduced capex and opex of more than 50 percent compared to the traditional 3G/4G wireless macro deployment alternatives. The two demo'd the solution in Las Vegas at the 20th Annual Competitive Carriers Association convention… Boston's TA Associates, with the support of SpeedCast's management team, completed a buyout of SpeedCast Ltd, a global network and satellite communications service provider, from Asia Satellite Telecommunications Co. Ltd. (AsiaSat). SpeedCast provides very small aperture terminal (VSAT) satellite-based broadband access services, managed networking solutions and value-added services in more than 30 countries primarily in Asia, the Middle East and Africa. No financial details were disclosed…Brightstar Corp. just bought U.K.-based Mobile Phone Xchange (MPX), a device buy-back & trade business. Via this deal, Brightstar can offer mobile operators and retailers an integrated, scalable technology platform it says "helps drive bottomline revenues, reduce churn and reduce acquisition and retention costs by allowing both retailers and consumers to realize the value of used mobile devices." No financial details were disclosed…Netgear's recently launched third-gen Push2TV wireless display adapter is based on the CNW6611L media SoC offering from semiconductor maker Cavium Inc. to leverage Cavium's USB- powered, low-latency Tiga reference design to facilitate seamless connectivity to notebook PCs, smartphones and tablets. The adapter supports Intel Wireless Display (WiDi), and it reportedly is one of the first adapters that is pre-standard compliant with the Wi-Fi Alliance's Miracast spec.