CableFAX Contest - Describe the cable industry in 5 words for a chance to win a $50 Amazon gift card!
Sign up for The Skinny from CableFAX - Free Weekly Eletter
Awards --
Call for Entries & Events:

CableFAX's Most Powerful Women in Cable Breakfast
November 21 - NYC
Photos from the Event

CableFAX's Best of the Web & Digital Marketing Awards
Deadline: December 6
Enter Today!

Webinars:

Establish Cable PR and Brand Leadership with Content Marketing
December 17
Register Now!

Selling TV Everywhere: Marketing and PR Strategies to Drive TVE Awareness
On-Demand

---
---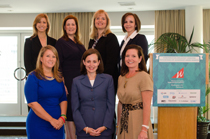 A TOUCH OF LEADERSHIP: At the PowerBrokers Breakfast of the WICT Washington, DC/Baltimore Chapter in Washington, DC on October 29, Touchstones of Leadership Award Honorees, were (top row, L-R) Discovery Comm's Catherine Frymark, Scripps Nets' Suzanne Underwald, Comcast's Samantha Callahan, TWC's Becky Bobzien-Simms, (bottom row, L-R) Travel Channel's Meghan Rodgers, the FCC's Michelle Carey & NBCU's Meredith Attwell Baker.






December 7, 2011

Broadcom Reacts to Demand for In-Vehicle Connectivity

Broadcom Corporation says it has the world's broadest automotive Ethernet portfolio, engineered to meet the rigorous qualifications and demands of the automotive semiconductor market. Broadcom's BroadR-Reach automotive portfolio delivers bandwidth of 100 Mbps and beyond while reducing connectivity costs and cabling weight.

As consumer demand for in-vehicle connectivity continues to grow, automotive manufacturers are under pressure to deliver competitive, innovative features while minimizing cost. Broadcom's BroadR-Reach automotive solutions allow multiple in-vehicle systems (such as infotainment, on-board diagnostics and automated driver assistance) to simultaneously access information over unshielded single twisted pair cable. By eliminating cumbersome, shielded cabling, automotive manufacturers can significantly reduce connectivity costs and cabling weight.



The Broadcom automotive Ethernet product portfolio consists of five devices including three highly integrated switches with embedded PHYs, and two stand-alone PHY solutions. Each device in the automotive portfolio is designed to meet in-car EMC requirements and extreme automotive temperature grades. Broadcom is TS16949 compliant and AEC-Q100 qualification is currently under way.

This announcement follows the recent introduction of the OPEN (One-Pair Ether-Net) Alliance Special Interest Group (SIG). Established to drive wide scale adoption of Ethernet-based automotive connectivity as the standard in automotive connectivity, the SIG will address industry requirements for improving in-vehicle safety, comfort, and infotainment, while significantly reducing network complexity and cabling costs. Members include Broadcom, NXP Semiconductors N.V., Freescale Semiconductor, Harman International, BMW, Hyundai Motor Company and Jaguar Land Rover.