CableFAX Contest - Describe the cable industry in 5 words for a chance to win a $50 Amazon gift card!
Sign up for The Skinny from CableFAX - Free Weekly Eletter
Awards --
Call for Entries & Events:

CableFAX's Most Powerful Women in Cable Breakfast
November 21 - NYC
Photos from the Event

CableFAX's Best of the Web & Digital Marketing Awards
Deadline: December 6
Enter Today!

Webinars:

Establish Cable PR and Brand Leadership with Content Marketing
December 17
Register Now!

Selling TV Everywhere: Marketing and PR Strategies to Drive TVE Awareness
On-Demand

---
---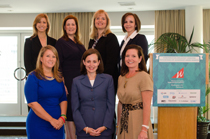 A TOUCH OF LEADERSHIP: At the PowerBrokers Breakfast of the WICT Washington, DC/Baltimore Chapter in Washington, DC on October 29, Touchstones of Leadership Award Honorees, were (top row, L-R) Discovery Comm's Catherine Frymark, Scripps Nets' Suzanne Underwald, Comcast's Samantha Callahan, TWC's Becky Bobzien-Simms, (bottom row, L-R) Travel Channel's Meghan Rodgers, the FCC's Michelle Carey & NBCU's Meredith Attwell Baker.






April 16, 2012

Enhanced MainConcept Offers Video/Audio Codec Integration

Rovi's MainConcept SDK (Software Development Kit) 9.5, an updated version of its video and audio codec library, targets developers serving the broadcast, professional and consumer industries, allowing them to integrate video and audio codecs into their applications, products and services.

According to the company, the new version "is expected to deliver an enhanced H.264 encoder optimized for delivering high visual quality at lower bit rates, new format support including 4K decoding and AVCHD 2.0 as well as compatibility with the latest hardware encoding technologies such as Intel's second and third generation of core processors with Quick Sync Video."

MainConcept SDK 9.5, which should be available in June, includes profiles to support DivX Plus Streaming encoding, enabling developers to add DivX Plus Streaming creation to their applications and products.

"Streaming live video productions or delivering entertainment 'on demand' over local networks as well as the Internet continues to grow and evolve and Rovi's MainConcept SDK continues to adapt to provide developers with the tools they need to be successful," notes Trent Wheeler, senior vice president/Product Management. "MainConcept SDK 9.5 is designed to provide developers with an industry-leading suite of developer tools for encoding, decoding and streaming video and audio for delivery over a network or the Internet with exceptionally high quality at low bit rates."