Sign up for The Skinny from CableFAX - Free Weekly Eletter
Awards --
Call for Entries & Events:

CableMania with Cablefax & AXS TV - April 30
RSVP Today!

Call for Nominations - Top Operators
Nomination Deadline: May 2
Enter Now!

CableFAX's Digital & Tech Summit: May 21
Yale Club | NYC
Register Now!

Call for Entries - Program Awards
Entry Deadline: June 20
Enter Today!

Complete List of Events
Webinars:

Participation TV 2.0: Turning Audience Involvement Into Profit
May 7
Register Now!

Monetizing Social TV: New Tools and Tactics for Success
March 25
On-Demand

---
---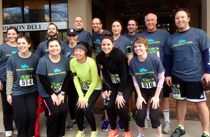 CABLE SHAPES UP! Members of CableFit #teamplatform at NCTA get ready to run a St. Patrick's Day 8K road race, spanning the U.S. Capitol grounds and National Mall on March 9, (back row, l. to r.): Julie Hance, Ethan Buch, Frank Gallagher, Kristin Buch, Steven Morris, Lisa Hamilton, Scot Donaldson, Rob Stoddard, Rick Stoddard; (front row, l. to r.): Kelly Allers, Kat Stewart, Esther Song, Carleigh Blewett, Lisa Otto. NCTA's team finished 11th in a field of 54.







April 16, 2012

Enhanced MainConcept Offers Video/Audio Codec Integration

Rovi's MainConcept SDK (Software Development Kit) 9.5, an updated version of its video and audio codec library, targets developers serving the broadcast, professional and consumer industries, allowing them to integrate video and audio codecs into their applications, products and services.

According to the company, the new version "is expected to deliver an enhanced H.264 encoder optimized for delivering high visual quality at lower bit rates, new format support including 4K decoding and AVCHD 2.0 as well as compatibility with the latest hardware encoding technologies such as Intel's second and third generation of core processors with Quick Sync Video."

MainConcept SDK 9.5, which should be available in June, includes profiles to support DivX Plus Streaming encoding, enabling developers to add DivX Plus Streaming creation to their applications and products.

"Streaming live video productions or delivering entertainment 'on demand' over local networks as well as the Internet continues to grow and evolve and Rovi's MainConcept SDK continues to adapt to provide developers with the tools they need to be successful," notes Trent Wheeler, senior vice president/Product Management. "MainConcept SDK 9.5 is designed to provide developers with an industry-leading suite of developer tools for encoding, decoding and streaming video and audio for delivery over a network or the Internet with exceptionally high quality at low bit rates."