Sign up for The Skinny from CableFAX - Free Weekly Eletter
Awards --
Call for Entries & Events:

CableFAXIES Awards
More Information

CableMania: A Magical Mystery Tour with Cablefax & AXS TV - April 30
RSVP Today!

CableFAX Tech Breakfast & Roundtable - May 1
Complimentary Registration!

Call for Nominations - Top Operators
Nomination Deadline: May 2
Enter Now!

CableFAX's Digital & Tech Summit: May 21
Yale Club | NYC
Register Now!

Complete List of Events
Webinars:

Complimentary Webinar:
Boost Viewer Engagement with Entertainment Metadata
April 16
Register for Free

Participation TV 2.0: Turning Audience Involvement Into Profit
May 7
Register Now!

Monetizing Social TV: New Tools and Tactics for Success
March 25
On-Demand

---
---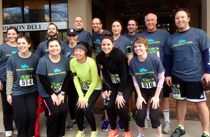 CABLE SHAPES UP! Members of CableFit #teamplatform at NCTA get ready to run a St. Patrick's Day 8K road race, spanning the U.S. Capitol grounds and National Mall on March 9, (back row, l. to r.): Julie Hance, Ethan Buch, Frank Gallagher, Kristin Buch, Steven Morris, Lisa Hamilton, Scot Donaldson, Rob Stoddard, Rick Stoddard; (front row, l. to r.): Kelly Allers, Kat Stewart, Esther Song, Carleigh Blewett, Lisa Otto. NCTA's team finished 11th in a field of 54.







April 25, 2012

EEE Portfolio Adds More Energy-Efficient PHYs

Broadcom Corporation added four energy efficient devices to its Energy Efficient Ethernet (EEE) portfolio.

Optimized for use in Ethernet network applications, the company says its 10/100/1000BASE-T physical layer transceivers (PHYs) lower operating power by more than 40 percent (1), and by 70 percent or more through the implementation of EEE (2).

The energy-efficient PHYs – the BCM54240, BCM54280, BCM54282 and BCM54285 — implement the IEEE 802.3 EEE standard directly into the physical layer, while Broadcom's AutoGrEEEn technology enables systems with legacy MACs to leverage the power savings of EEE in periods of low-link utilization, thus reducing time to market.

"This innovation allows customers to transform existing network equipment to EEE-compliance simply by changing the PHY device," Broadcom notes. The new PHYs also provide integrated on-chip 1588 PTP and Y.1731 delay measurement to deliver timing synchronization and latency measurement.

Broadcom cited industry data to explain why energy efficiency is important now:

>> More than 150 million metric tons of carbon dioxide (CO2) are used to power IT equipment, with a global price tag of approximately $16 billion per year;
>> "Business-as-usual" projections foresee a 130 percent rise in CO2 emissions by 2050;
>> Increasing pressure on network managers to adopt and implement more energy-efficient technologies;
>> Nearly half of all network energy is wasted by "always on" electronics that lack adequate power-management capabilities; and
>> Carrier and industrial Ethernet markets require precise synchronization and accurate latency management.

The BCM54280 40nm multi-port Gigabit PHY family consists of the following four devices:

>> BCM54280: Octal-port SGMII 10/100/1000BASE-T PHY
>> BCM54282: Octal-port QSGMII 10/100/1000BASE-T PHY
>> BCM54285: Octal-port QSGMII 10/100/1000BASE-T PHY with Copper/Fiber Dual Media Interface
>> BCM54240: Quad-port SGMII 10/100/1000BASE-T PHY with Copper/Fiber Dual Media Interface

All devices now are sampling. Broadcom says production volume is slated for the second half of 2012.