CableFAX Contest - Describe the cable industry in 5 words for a chance to win a $50 Amazon gift card!
Sign up for The Skinny from CableFAX - Free Weekly Eletter
Awards --
Call for Entries & Events:

CableFAX's Most Powerful Women in Cable Breakfast
November 21 - NYC
Photos from the Event

CableFAX's Best of the Web & Digital Marketing Awards
Deadline: December 6
Enter Today!

Webinars:

Establish Cable PR and Brand Leadership with Content Marketing
December 17
Register Now!

Selling TV Everywhere: Marketing and PR Strategies to Drive TVE Awareness
On-Demand

---
---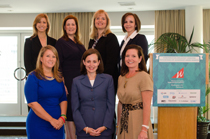 A TOUCH OF LEADERSHIP: At the PowerBrokers Breakfast of the WICT Washington, DC/Baltimore Chapter in Washington, DC on October 29, Touchstones of Leadership Award Honorees, were (top row, L-R) Discovery Comm's Catherine Frymark, Scripps Nets' Suzanne Underwald, Comcast's Samantha Callahan, TWC's Becky Bobzien-Simms, (bottom row, L-R) Travel Channel's Meghan Rodgers, the FCC's Michelle Carey & NBCU's Meredith Attwell Baker.






May 9, 2011

Unicorn Supports Adobe's HTTP Dynamic Streaming

Unicorn Media is enabling its patented technology platform, Unicorn Once, for Adobe's HTTP Dynamic Streaming Protocol. Unicorn Media is a digital media management provider founded by Limelight Networks founding CEO, Bill Rinehart.

Unicorn Once fully supports delivery to iPad, iPhone, BlackBerry, Windows Mobile 7 and Android, in addition to other Internet-connected devices including, game consoles and set-top boxes. With the addition of support for Adobe's HTTP Dynamic Streaming, Unicorn now brings the full power of Unicorn Once with HTTP streaming and adaptive bitrate technology to Flash-based players.

Unicorn Once allows media publishers to ingest their content once and deliver to any Internet-connected device, while incorporating dynamic ad integration and real-time video analytics across all platforms. Unicorn Once is not a client SDK or server-stitched solution; it is a patented technology that allows Unicorn customers to ingest their content one time and receive a single URL in return.

Unicorn Once is currently available for commercial use across all platforms using a variety of delivery protocols including Apple's HTTP Live Streaming protocol and today has opened a private BETA for use with Adobe's HTTP Dynamic Streaming Protocol. Adobe's HTTP Dynamic Streaming Protocol has become a popular technology for video stream delivery. Until now, the ability to support interstitial ad integration into an HTTP stream as well as the ability to provide detailed analytics on those streams has been unavailable without extensive development effort and costly work-arounds.