Sign up for The Skinny from CableFAX - Free Weekly Eletter
Awards --
Call for Entries & Events:

CableMania with Cablefax & AXS TV - April 30
RSVP Today!

Call for Nominations - Top Operators
Nomination Deadline: May 2
Enter Now!

CableFAX's Digital & Tech Summit: May 21
Yale Club | NYC
Register Now!

Call for Entries - Program Awards
Entry Deadline: June 20
Enter Today!

Complete List of Events
Webinars:

Participation TV 2.0: Turning Audience Involvement Into Profit
May 7
Register Now!

Monetizing Social TV: New Tools and Tactics for Success
March 25
On-Demand

---
---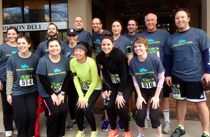 CABLE SHAPES UP! Members of CableFit #teamplatform at NCTA get ready to run a St. Patrick's Day 8K road race, spanning the U.S. Capitol grounds and National Mall on March 9, (back row, l. to r.): Julie Hance, Ethan Buch, Frank Gallagher, Kristin Buch, Steven Morris, Lisa Hamilton, Scot Donaldson, Rob Stoddard, Rick Stoddard; (front row, l. to r.): Kelly Allers, Kat Stewart, Esther Song, Carleigh Blewett, Lisa Otto. NCTA's team finished 11th in a field of 54.







May 9, 2011

Unicorn Supports Adobe's HTTP Dynamic Streaming

Unicorn Media is enabling its patented technology platform, Unicorn Once, for Adobe's HTTP Dynamic Streaming Protocol. Unicorn Media is a digital media management provider founded by Limelight Networks founding CEO, Bill Rinehart.

Unicorn Once fully supports delivery to iPad, iPhone, BlackBerry, Windows Mobile 7 and Android, in addition to other Internet-connected devices including, game consoles and set-top boxes. With the addition of support for Adobe's HTTP Dynamic Streaming, Unicorn now brings the full power of Unicorn Once with HTTP streaming and adaptive bitrate technology to Flash-based players.

Unicorn Once allows media publishers to ingest their content once and deliver to any Internet-connected device, while incorporating dynamic ad integration and real-time video analytics across all platforms. Unicorn Once is not a client SDK or server-stitched solution; it is a patented technology that allows Unicorn customers to ingest their content one time and receive a single URL in return.

Unicorn Once is currently available for commercial use across all platforms using a variety of delivery protocols including Apple's HTTP Live Streaming protocol and today has opened a private BETA for use with Adobe's HTTP Dynamic Streaming Protocol. Adobe's HTTP Dynamic Streaming Protocol has become a popular technology for video stream delivery. Until now, the ability to support interstitial ad integration into an HTTP stream as well as the ability to provide detailed analytics on those streams has been unavailable without extensive development effort and costly work-arounds.