CableFAX Contest - Describe the cable industry in 5 words for a chance to win a $50 Amazon gift card!
Sign up for The Skinny from CableFAX - Free Weekly Eletter
Awards --
Call for Entries & Events:

CableFAX's Most Powerful Women in Cable Breakfast
November 21 - NYC
Photos from the Event

CableFAX's Best of the Web & Digital Marketing Awards
Deadline: December 6
Enter Today!

Webinars:

Establish Cable PR and Brand Leadership with Content Marketing
December 17
Register Now!

Selling TV Everywhere: Marketing and PR Strategies to Drive TVE Awareness
On-Demand

---
---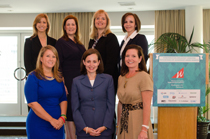 A TOUCH OF LEADERSHIP: At the PowerBrokers Breakfast of the WICT Washington, DC/Baltimore Chapter in Washington, DC on October 29, Touchstones of Leadership Award Honorees, were (top row, L-R) Discovery Comm's Catherine Frymark, Scripps Nets' Suzanne Underwald, Comcast's Samantha Callahan, TWC's Becky Bobzien-Simms, (bottom row, L-R) Travel Channel's Meghan Rodgers, the FCC's Michelle Carey & NBCU's Meredith Attwell Baker.






September 2, 2011

Time Warner Cable's Research Program Issues 3 Reports

As part of its Research Program on Digital Communications, Time Warner Cable released reports on three topics: the Internet, smart grids and social networks.

The reports released today are:

Remaking the Internet: Taking Network Architecture to the Next Level, by Richard Bennett, Research Fellow, Information Technology and Innovation Foundation.

Realizing the Smart Grid Imperative: A Framework for Enhancing Collaboration Between Energy Utilities and Broadband Service Providers by Charles Davidson, Director, The Advanced Communication Law & Policy Institute, New York Law School and Michael J. Santorelli, Director, The Advanced Communication Law & Policy Institute, New York Law School. 

Social Networks, Personalized Advertising, and Perceptions of Privacy Control, by Catherine Tucker, Douglas Drane Career Development Professor in IT and Management and Assistant Professor in Marketing, MIT Sloan School of Management. 


The Time Warner Cable Research Program on Digital Communications was launched in February 2010 and awards stipends to foster research about the challenges facing the future of digital technologies in the home, office, classroom and community. Individual researchers affiliated with universities and not-for-profits are eligible to apply for the stipends. The reports are available at the program's website.