Sign up for The Skinny from CableFAX - Free Weekly Eletter
Awards --
Call for Entries & Events:

CableMania with Cablefax & AXS TV - April 30
RSVP Today!

CableFAX Tech Breakfast & Roundtable - May 1
Complimentary Registration!

Call for Nominations - Top Operators
Nomination Deadline: May 2
Enter Now!

CableFAX's Digital & Tech Summit: May 21
Yale Club | NYC
Register Now!

Complete List of Events
Webinars:

Participation TV 2.0: Turning Audience Involvement Into Profit
May 7
Register Now!

Monetizing Social TV: New Tools and Tactics for Success
March 25
On-Demand

---
---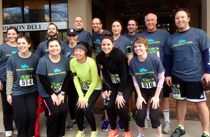 CABLE SHAPES UP! Members of CableFit #teamplatform at NCTA get ready to run a St. Patrick's Day 8K road race, spanning the U.S. Capitol grounds and National Mall on March 9, (back row, l. to r.): Julie Hance, Ethan Buch, Frank Gallagher, Kristin Buch, Steven Morris, Lisa Hamilton, Scot Donaldson, Rob Stoddard, Rick Stoddard; (front row, l. to r.): Kelly Allers, Kat Stewart, Esther Song, Carleigh Blewett, Lisa Otto. NCTA's team finished 11th in a field of 54.







September 2, 2011

Time Warner Cable's Research Program Issues 3 Reports

As part of its Research Program on Digital Communications, Time Warner Cable released reports on three topics: the Internet, smart grids and social networks.

The reports released today are:

Remaking the Internet: Taking Network Architecture to the Next Level, by Richard Bennett, Research Fellow, Information Technology and Innovation Foundation.

Realizing the Smart Grid Imperative: A Framework for Enhancing Collaboration Between Energy Utilities and Broadband Service Providers by Charles Davidson, Director, The Advanced Communication Law & Policy Institute, New York Law School and Michael J. Santorelli, Director, The Advanced Communication Law & Policy Institute, New York Law School. 

Social Networks, Personalized Advertising, and Perceptions of Privacy Control, by Catherine Tucker, Douglas Drane Career Development Professor in IT and Management and Assistant Professor in Marketing, MIT Sloan School of Management. 


The Time Warner Cable Research Program on Digital Communications was launched in February 2010 and awards stipends to foster research about the challenges facing the future of digital technologies in the home, office, classroom and community. Individual researchers affiliated with universities and not-for-profits are eligible to apply for the stipends. The reports are available at the program's website.