Sign up for The Skinny from CableFAX - Free Weekly Eletter
Awards --
Call for Entries & Events:

CableMania with Cablefax & AXS TV - April 30
RSVP Today!

Call for Nominations - Top Operators
Nomination Deadline: May 2
Enter Now!

CableFAX's Digital & Tech Summit: May 21
Yale Club | NYC
Register Now!

Call for Entries - Program Awards
Entry Deadline: June 20
Enter Today!

Complete List of Events
Webinars:

Participation TV 2.0: Turning Audience Involvement Into Profit
May 7
Register Now!

Monetizing Social TV: New Tools and Tactics for Success
March 25
On-Demand

---
---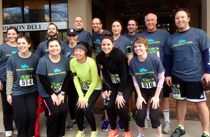 CABLE SHAPES UP! Members of CableFit #teamplatform at NCTA get ready to run a St. Patrick's Day 8K road race, spanning the U.S. Capitol grounds and National Mall on March 9, (back row, l. to r.): Julie Hance, Ethan Buch, Frank Gallagher, Kristin Buch, Steven Morris, Lisa Hamilton, Scot Donaldson, Rob Stoddard, Rick Stoddard; (front row, l. to r.): Kelly Allers, Kat Stewart, Esther Song, Carleigh Blewett, Lisa Otto. NCTA's team finished 11th in a field of 54.







May 8, 2012

Reporting Function Added To Sybase Biz Intel Offerings

Sybase 365, a subsidiary of mobile messaging/mobile commerce services provider Sybase Inc., took the wraps off "Sybase Operational Reporting 2.0," a product it calls the next generation of the company's hosted business intelligence service that provides deep analytics of mobile messaging traffic.

Powered by the company's column-based analytics server SAP Sybase IQ 15.4, Operational Reporting 2.0 provides a range of reports, including message traffic, network utilization, performance indicators, quality of service testing, customer analysis, trend analysis and transit time.

According to company literature, "By performing advanced analytics on the message traffic they send across the Sybase 365 global network, mobile operators can monitor key network components allowing them to provision their network to better serve traffic spikes and let users view performance trends, analyze system history and track error messages, in order to more effectively diagnose message delivery issues and troubleshoot problems."



New features and benefits include:


>> Country Level Analysis – Flexibility to view message traffic at the country level, providing visibility to customer usage trends;

>> Message Traffic Trending – Capability to visualize messaging trends over a configurable period of time; and

>> Transit Time Analysis – Enables a comprehensive and filterable view of message delivery and transit times


The service initially will roll out across North America, LATAM, and select AsiaPac and European mobile operators.