CableFAX Contest - Describe the cable industry in 5 words for a chance to win a $50 Amazon gift card!
Sign up for The Skinny from CableFAX - Free Weekly Eletter
Awards --
Call for Entries & Events:

CableFAX's Most Powerful Women in Cable Breakfast
November 21 - NYC
Photos from the Event

CableFAX's Best of the Web & Digital Marketing Awards
Deadline: December 6
Enter Today!

Webinars:

Establish Cable PR and Brand Leadership with Content Marketing
December 17
Register Now!

Selling TV Everywhere: Marketing and PR Strategies to Drive TVE Awareness
On-Demand

---
---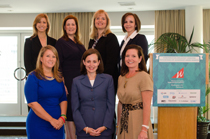 A TOUCH OF LEADERSHIP: At the PowerBrokers Breakfast of the WICT Washington, DC/Baltimore Chapter in Washington, DC on October 29, Touchstones of Leadership Award Honorees, were (top row, L-R) Discovery Comm's Catherine Frymark, Scripps Nets' Suzanne Underwald, Comcast's Samantha Callahan, TWC's Becky Bobzien-Simms, (bottom row, L-R) Travel Channel's Meghan Rodgers, the FCC's Michelle Carey & NBCU's Meredith Attwell Baker.






August 18, 2011

Comcast Holds Internal 'Science Fairs' to Develop New Products

Comcast is touting the work of its Comcast Interactive Media (CIM) team and its quarterly CIM Lab Weeks. The CIM team developed the Xfinity TV app and is playing a role in "helping Comcast transform television as we know it, and helping our customers personalize their TV experience," according to a Comcast spokeswoman.

In a posting on its corporate blog, Jason Press, VP and CTO of Comcast Interactive Media, wrote, "We began CIM Lab Week six years ago. CIM Lab Week invites our engineers and sometimes other cross-functional teams (quality assurance, user experience, etc.) to work collaboratively on projects that are not currently on our roadmap. What happens is this: CIMmers pitch product or technology capability ideas to each other, self-select teams to execute chosen ideas and then have one week to build working software for a project that has a clear benefit or value to Comcast and our customers, or enhances our platforms to extend our capabilities. What they build is entirely up to them. Not every idea warrants development, and the selection process is done solely by the teams. At the end of Lab Week, the CIMmers present their projects in a 'science fair' style event, which includes the entire CIM organization and special guest from other parts of the Comcast. As a follow-up to Lab Week, we select projects that should go onto the roadmap, ones that need further research, or identify the ones that contain strategic intellectual property that may be useful in future endeavors.

"Lab Week has been instrumental in accelerating some very important product changes including: changing our security model for our Xfinity TV experience from client to server; our on-boarding experience for new Xfinity TV customers and how we automate our product testing, to name a few."