Congratulations to the 2014 Digital Hot List - Register for the March 13 Luncheon Today!


Call for Contributors
- Social Media and Digital Marketing Guidebook
Sign up for The Skinny from CableFAX - Free Weekly Eletter
Awards --
Call for Entries & Events:

Cable Business Boot Camp
March 13 | NYC
Register Today!

Digital and Tech Awards Luncheon
March 13 | NYC
Register Today!

CableFAXIES Awards
Entry Deadline: March 21
Enter Now!

Call for Nominations - Top Operators
Nomination Deadline: April 11
Enter Now!

Complete List of Events
Webinars:

Monetizing Social TV: New Tools and Tactics for Success
March 25
Register Today!

The OTT Opportunity: How to Partner for Profit
On-Demand

---
---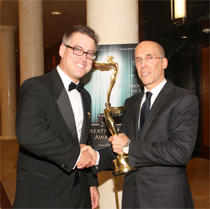 ANIMATION HONORS: 3net Studios President & CEO Tom Cosgrove, whose 4K original series Space: Unraveling the Cosmos won "Best Documentary" poses with DreamWorks Animation CEO Jeffrey Katzenberg, who was on-hand to accept the Harold Lloyd Filmmaker Award at The International 3D & Advanced Imaging Society's Awards Gala Tuesday night at Warner Bros Studios.






November 21, 2011

Amdocs Survey Highlights Churn

A survey conducted by Informa Telecoms and Media for Amdocs found that 66 percent of operators believe customers are less loyal today than they were two years ago, and 70 percent of service providers cite customer retention and loyalty as the critical factor for driving growth. Due to market saturation and increasing competition, 82 percent of service providers said that customer loyalty programs would be "very important" or "important" over the next five years to their company's strategy.

Key survey findings:

Too little, too late: Sixty-five percent of service providers only initiate a retention program when the customer has started the process of leaving and 90 percent measure customer loyalty by churn rates.
Customer loyalty misconceptions: Service providers saw service quality (97 percent), network coverage (95 percent), network capacity (92 percent) and customer care (86 percent) as the key drivers behind customer loyalty. Yet in a separate Amdocs consumer survey, network coverage and good customer care are regarded by consumers as basic service requirements and do not comprise competitive differentiators. Two-thirds of consumers stated that it was personalized and tailored services, proactive care and rewards for being loyal customers that would win their loyalty.
Organizational challenges still block loyalty initiatives: Service and knowledge consistency across channels (94 percent), the ability to offer simple, transparent pricing (94 percent) and creating one integrated customer profile (89 percent) are regarded as vital in supporting customer retention and loyalty strategies over the next five years. But only 21 percent of service providers say they have the necessary collaboration today between their IT and customer retention and loyalty departments to enable this.
Different regions, different churn trends: Most regions show a linear growth trend in customer churn, with higher prepaid penetration regions facing the biggest customer loyalty challenge. The North American market, despite arguably facing the largest competitive threat, is the one market bucking this trend. The service providers in this region have adopted loyalty programs centered on building a complete view and more in-depth knowledge of their customers, while also initiating loyalty programs tailored to the individual. Respondents in Europe and emerging markets identified this as the approach they would need to take to compete more effectively.

The survey results are based on a qualitative survey of director-level and above marketing and business executives responsible for retention strategies at 40 service providers across North America, Europe, Asia Pacific and Central and Latin America. The interviews were conducted from June to July 2011.