CableFAX Contest - Describe the cable industry in 5 words for a chance to win a $50 Amazon gift card!
Sign up for The Skinny from CableFAX - Free Weekly Eletter
Awards --
Call for Entries & Events:

CableFAX's Most Powerful Women in Cable Breakfast
November 21 - NYC
Photos from the Event

CableFAX's Best of the Web & Digital Marketing Awards
Deadline: December 6
Enter Today!

Webinars:

How to Profit from Content Marketing in Cable
December 17
Register Now!

Selling TV Everywhere: Marketing and PR Strategies to Drive TVE Awareness
On-Demand

---
---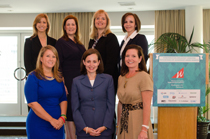 A TOUCH OF LEADERSHIP: At the PowerBrokers Breakfast of the WICT Washington, DC/Baltimore Chapter in Washington, DC on October 29, Touchstones of Leadership Award Honorees, were (top row, L-R) Discovery Comm's Catherine Frymark, Scripps Nets' Suzanne Underwald, Comcast's Samantha Callahan, TWC's Becky Bobzien-Simms, (bottom row, L-R) Travel Channel's Meghan Rodgers, the FCC's Michelle Carey & NBCU's Meredith Attwell Baker.






August 18, 2009

Suddenlink Hits 250k+ Phone Mark

Suddenlink Communications announced that it now counts more than 250,000 active phone lines serving residential and business customers. That's up from approximately 30,000 lines at the beginning of 2007, before the company expanded phone service to most of its markets.

Suddenlink customers are now placing and receiving up to six million calls a day, about twice as many daily calls as the company's network handled 14 months ago and six times as many as it did two years ago.

"Our phone service is increasingly popular, as more customers realize they can get the same or in many cases better quality of service than they've enjoyed in the past for substantially less money," said Suddenlink Chief Operating Officer Tom McMillin.

Suddenlink's phone service uses IP technology to transport calls over the company's own, private, managed IP-based network. As a standard part of its residential service, Suddenlink offers unlimited local and domestic long-distance calls, plus a set of popular calling features. Suddenlink Phone also provides automatic access to the FCC-mandated Enhanced 911 system and is compatible with most modern alarm monitoring equipment.

Earlier this year, the company launched an enhanced Business Class Phone service for larger commercial accounts with more complex telephony requirements.