CableFAX Contest - Describe the cable industry in 5 words for a chance to win a $50 Amazon gift card!
Sign up for The Skinny from CableFAX - Free Weekly Eletter
Awards --
Call for Entries & Events:

CableFAX's Most Powerful Women in Cable Breakfast
November 21 - NYC
Photos from the Event

CableFAX's Best of the Web & Digital Marketing Awards
Deadline: December 6
Enter Today!

Webinars:

Establish Cable PR and Brand Leadership with Content Marketing
December 17
Register Now!

Selling TV Everywhere: Marketing and PR Strategies to Drive TVE Awareness
On-Demand

---
---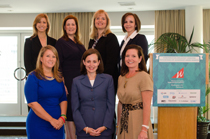 A TOUCH OF LEADERSHIP: At the PowerBrokers Breakfast of the WICT Washington, DC/Baltimore Chapter in Washington, DC on October 29, Touchstones of Leadership Award Honorees, were (top row, L-R) Discovery Comm's Catherine Frymark, Scripps Nets' Suzanne Underwald, Comcast's Samantha Callahan, TWC's Becky Bobzien-Simms, (bottom row, L-R) Travel Channel's Meghan Rodgers, the FCC's Michelle Carey & NBCU's Meredith Attwell Baker.






December 15, 2011

Skype Offers Wi-Fi in Manhattan

Towerstream Corporation, a 4G service provider and Wi-Fi network operator, and Microsoft-owned Skype have partnered to include Towerstream's Manhattan Wi-Fi network within the Skype Wi-Fi hotspot footprint.



Skype Wi-Fi is a convenient, one-click way to get online at third party wireless hotspots and pay by the minute using Skype Credit. Skype customers, who currently have access to over one million hotspots around the world, are now able to access the mobile Internet when roaming around the streets of Manhattan. By using Skype Wi-Fi on either a smartphone or computer, users can browse the Internet, check email, upload photos, and download music or e-books, at a per-minute rate.



Founded in 2000, Towerstream has established networks in over 12 markets including New York City, Boston, Los Angeles, Chicago, Philadelphia, the San Francisco Bay area, Miami, Seattle, Dallas-Fort Worth, Nashville, Las Vegas-Reno and the greater Providence area where the company is based. In 2011, Towerstream launched its Manhattan Wi-Fi network geared toward mobile operators, retail/daily deal providers and Wi-Fi operators.