Sign up for The Skinny from CableFAX - Free Weekly Eletter
Awards --
Call for Entries & Events:

CableMania with Cablefax & AXS TV - April 30
RSVP Today!

CableFAX Tech Breakfast & Roundtable - May 1
Complimentary Registration!

Call for Nominations - Top Operators
Nomination Deadline: May 2
Enter Now!

CableFAX's Digital & Tech Summit: May 21
Yale Club | NYC
Register Now!

Complete List of Events
Webinars:

Participation TV 2.0: Turning Audience Involvement Into Profit
May 7
Register Now!

Monetizing Social TV: New Tools and Tactics for Success
March 25
On-Demand

---
---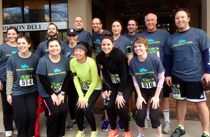 CABLE SHAPES UP! Members of CableFit #teamplatform at NCTA get ready to run a St. Patrick's Day 8K road race, spanning the U.S. Capitol grounds and National Mall on March 9, (back row, l. to r.): Julie Hance, Ethan Buch, Frank Gallagher, Kristin Buch, Steven Morris, Lisa Hamilton, Scot Donaldson, Rob Stoddard, Rick Stoddard; (front row, l. to r.): Kelly Allers, Kat Stewart, Esther Song, Carleigh Blewett, Lisa Otto. NCTA's team finished 11th in a field of 54.







December 15, 2011

Skype Offers Wi-Fi in Manhattan

Towerstream Corporation, a 4G service provider and Wi-Fi network operator, and Microsoft-owned Skype have partnered to include Towerstream's Manhattan Wi-Fi network within the Skype Wi-Fi hotspot footprint.



Skype Wi-Fi is a convenient, one-click way to get online at third party wireless hotspots and pay by the minute using Skype Credit. Skype customers, who currently have access to over one million hotspots around the world, are now able to access the mobile Internet when roaming around the streets of Manhattan. By using Skype Wi-Fi on either a smartphone or computer, users can browse the Internet, check email, upload photos, and download music or e-books, at a per-minute rate.



Founded in 2000, Towerstream has established networks in over 12 markets including New York City, Boston, Los Angeles, Chicago, Philadelphia, the San Francisco Bay area, Miami, Seattle, Dallas-Fort Worth, Nashville, Las Vegas-Reno and the greater Providence area where the company is based. In 2011, Towerstream launched its Manhattan Wi-Fi network geared toward mobile operators, retail/daily deal providers and Wi-Fi operators.