Sign up for The Skinny from CableFAX - Free Weekly Eletter
Awards --
Call for Entries & Events:

CableMania: A Magical Mystery Tour with Cablefax & AXS TV - April 30
RSVP Today!

CableFAX Tech Breakfast & Roundtable - May 1
Complimentary Registration!

Call for Nominations - Top Operators
Nomination Deadline: May 2
Enter Now!

CableFAX's Digital & Tech Summit: May 21
Yale Club | NYC
Register Now!

Complete List of Events
Webinars:

Participation TV 2.0: Turning Audience Involvement Into Profit
May 7
Register Now!

Monetizing Social TV: New Tools and Tactics for Success
March 25
On-Demand

---
---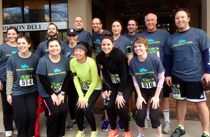 CABLE SHAPES UP! Members of CableFit #teamplatform at NCTA get ready to run a St. Patrick's Day 8K road race, spanning the U.S. Capitol grounds and National Mall on March 9, (back row, l. to r.): Julie Hance, Ethan Buch, Frank Gallagher, Kristin Buch, Steven Morris, Lisa Hamilton, Scot Donaldson, Rob Stoddard, Rick Stoddard; (front row, l. to r.): Kelly Allers, Kat Stewart, Esther Song, Carleigh Blewett, Lisa Otto. NCTA's team finished 11th in a field of 54.







October 19, 2010

Rovi Launches ETV/EBIF Services on its Guide

Rovi Corporation is offering cable providers the ability to deploy interactive TV services through the integration of Enhanced Television (ETV)/ Enhanced Binary Interchange Format (EBIF) applications and widgets on Rovi Passport Guide and i-Guide. In collaboration with FourthWall Media, Rovi is launching a standards-based ETV/EBIF solution comprised of an EBIF user agent and ETV platform server to facilitate the integration of a variety of third party applications with the guide, and a starter kit of FourthWall applications that includes Yellow Pages on TV, eBay on TV, news, weather, sports and finance.



In addition, Rovi announced that Blue Ridge Communications, a service provider based in Pennsylvania, has licensed and is the first to deploy the ETV/EBIF solution and the TV Widgets on Rovi Passport Guide to its subscriber base.