Sign up for The Skinny from CableFAX - Free Weekly Eletter
Awards --
Call for Entries & Events:

CableFAX Most Powerful Women & Most Influential Minorities in Cable
Deadline: May 17
Free to Nominate

CableFAX Program Awards
Call for Entries: June 21
Enter today!

CableFAXIES & Sales Executive of the Year Awards Breakfast
June 24
Register today!

Complete List of Events

Webinars:

Vine, Viggle, GetGlue:
Leveraging the Newest Social Media Apps to Drive Engagement and Brand Awareness
On-Demand

Capitalizing on Cloud Management and Navigation

Video On Demand Next Practices: Capitalizing on the Latest Innovations
On Demand

Killer Cable Apps: Using Online Games and Apps to Drive Consumer Engagement
On Demand


---
---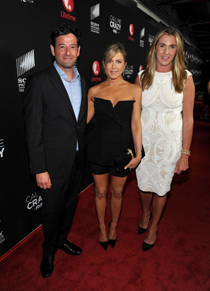 CALL ME CRAZY. On April 16, 2013, Lifetime and Sony Pictures Television held a premiere event for the Lifetime Original Movie "CALL Me Crazy: A Five Film" at the Pacific Design Center in Los Angeles. L to R: Rob Sharenow, evp, Programming, Lifetime Networks; Jennifer Aniston, Executive Producer of "Call Me Crazy"; and Nancy Dubuc, pres, Entertainment and Media, A+E Nets. Debuts April 20, 8pm. Photo by John Shearer/Invision for Lifetime/AP Images.





May 16, 2012

Forget MTV. I Want My Wi-Fi.

A survey of nearly 900 Americans commissioned by Broadcom revealed that 60 percent of respondents can't go a full day without seeking a Wi-Fi connection. In fact, about a third of them said they couldn't last an hour without Wi-Fi.
 


And here's what else they would give up for a month, just to get that Wi-Fi fix:

>> 39 percent would give up coffee.
>> 43 percent would give up chocolate.
>> 57 percent would give up Twitter.
>> 50 percent would give up Facebook.
>> 34 percent would give up emailing.

Says Michael Hurlston, senior vice president/Mobile & Wireless Group at Broadcom, "Wi-Fi has become the connectivity equivalent to coffee, but legacy Wi-Fi wasn't built to handle the explosion of video consumption and the growing number of wireless devices being used today. To satisfy peoples' dependence on Wi-Fi, we need faster, broader, further-reaching and more energy-efficient Wi-Fi: 5G Wi-Fi." 


The country's growing dependence on Wi-Fi connectivity is caused by greater demand for content, particularly of high-definition video on mobile devices, the survey notes: "The fifth generation of Wi-Fi is now available to satisfy demand – 5G Wi-Fi, based on 802.11ac."

According to Broadcom, its 5G Wi-Fi streams content as much as six times faster than legacy Wi-Fi and is six times more energy efficient, providing broader coverage and allowing numerous mobile devices to simultaneously connect to a network without impacting performance.