Sign up for The Skinny from CableFAX - Free Weekly Eletter
Awards --
Call for Entries & Events:

CableMania with Cablefax & AXS TV - April 30
RSVP Today!

CableFAX Tech Breakfast & Roundtable - May 1
Complimentary Registration!

Call for Nominations - Top Operators
Nomination Deadline: May 2
Enter Now!

CableFAX's Digital & Tech Summit: May 21
Yale Club | NYC
Register Now!

Call for Entries - Program Awards
Entry Deadline: June 20
Enter Today!

Complete List of Events
Webinars:

Participation TV 2.0: Turning Audience Involvement Into Profit
May 7
Register Now!

Monetizing Social TV: New Tools and Tactics for Success
March 25
On-Demand

---
---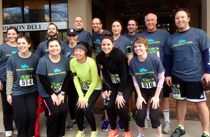 CABLE SHAPES UP! Members of CableFit #teamplatform at NCTA get ready to run a St. Patrick's Day 8K road race, spanning the U.S. Capitol grounds and National Mall on March 9, (back row, l. to r.): Julie Hance, Ethan Buch, Frank Gallagher, Kristin Buch, Steven Morris, Lisa Hamilton, Scot Donaldson, Rob Stoddard, Rick Stoddard; (front row, l. to r.): Kelly Allers, Kat Stewart, Esther Song, Carleigh Blewett, Lisa Otto. NCTA's team finished 11th in a field of 54.







November 17, 2009

Cox, NBC Run Dynamic VOD Ad Trial

Cox Media, the advertising services division of Cox Communications, and NBC Universal have launched a dynamic advertising trial, designed to test the value of inserting different advertisements into the same on demand programs.

Cox Media and NBC Universal are working closely with a large advertiser and the trial includes dynamic ad insertion on two leading NBC Universal programs: The Office and Monk. Both series are available through Cox MyPrimetime, the category in Cox's on demand menu that provides access to shows starting the day after they air. During the trial, up to four ads in both programs are refreshed several times per week, including ads at the beginning of the program as well as ads within the program, known as interior breaks.

Cox and NBC Universal have launched the trial in Phoenix, one of Cox's largest markets. This follows a successful Cox technology trial earlier this year in Kansas that tested dynamic ad insertion with Cox-owned Travel Channel on demand content.

In addition to demonstrating the value of dynamic ads in On DEMAND programs, the trial is designed to explore the division of responsibilities, operational hand-offs and processes necessary to enable successful dynamic ad insertion. SCTE standards for dynamic ad insertion were recently established and vendors have started delivering to those standards. The Cox/NBCU trial combines standards from both the broadcast and cable industries into a coordinated workflow. For the trial Avail-TVN, SeaChange International, and Texscan NT collaborated to support the end-to-end workflow required for dynamic ad insertion.