CableFAX Contest - Describe the cable industry in 5 words for a chance to win a $50 Amazon gift card!
Sign up for The Skinny from CableFAX - Free Weekly Eletter
Awards --
Call for Entries & Events:

CableFAX's Most Powerful Women in Cable Breakfast
November 21 - NYC
Photos from the Event

CableFAX's Best of the Web & Digital Marketing Awards
Deadline: December 6
Enter Today!

Webinars:

Establish Cable PR and Brand Leadership with Content Marketing
December 17
Register Now!

Selling TV Everywhere: Marketing and PR Strategies to Drive TVE Awareness
On-Demand

---
---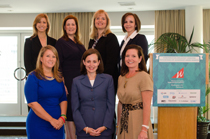 A TOUCH OF LEADERSHIP: At the PowerBrokers Breakfast of the WICT Washington, DC/Baltimore Chapter in Washington, DC on October 29, Touchstones of Leadership Award Honorees, were (top row, L-R) Discovery Comm's Catherine Frymark, Scripps Nets' Suzanne Underwald, Comcast's Samantha Callahan, TWC's Becky Bobzien-Simms, (bottom row, L-R) Travel Channel's Meghan Rodgers, the FCC's Michelle Carey & NBCU's Meredith Attwell Baker.






November 17, 2009

Cox, NBC Run Dynamic VOD Ad Trial

Cox Media, the advertising services division of Cox Communications, and NBC Universal have launched a dynamic advertising trial, designed to test the value of inserting different advertisements into the same on demand programs.

Cox Media and NBC Universal are working closely with a large advertiser and the trial includes dynamic ad insertion on two leading NBC Universal programs: The Office and Monk. Both series are available through Cox MyPrimetime, the category in Cox's on demand menu that provides access to shows starting the day after they air. During the trial, up to four ads in both programs are refreshed several times per week, including ads at the beginning of the program as well as ads within the program, known as interior breaks.

Cox and NBC Universal have launched the trial in Phoenix, one of Cox's largest markets. This follows a successful Cox technology trial earlier this year in Kansas that tested dynamic ad insertion with Cox-owned Travel Channel on demand content.

In addition to demonstrating the value of dynamic ads in On DEMAND programs, the trial is designed to explore the division of responsibilities, operational hand-offs and processes necessary to enable successful dynamic ad insertion. SCTE standards for dynamic ad insertion were recently established and vendors have started delivering to those standards. The Cox/NBCU trial combines standards from both the broadcast and cable industries into a coordinated workflow. For the trial Avail-TVN, SeaChange International, and Texscan NT collaborated to support the end-to-end workflow required for dynamic ad insertion.