CableFAX Contest - Describe the cable industry in 5 words for a chance to win a $50 Amazon gift card!
Sign up for The Skinny from CableFAX - Free Weekly Eletter
Awards --
Call for Entries & Events:

CableFAX's Most Powerful Women in Cable Breakfast
November 21 - NYC
Photos from the Event

CableFAX's Best of the Web & Digital Marketing Awards
Deadline: December 6
Enter Today!

Webinars:

How to Profit from Content Marketing in Cable
December 17
Register Now!

Selling TV Everywhere: Marketing and PR Strategies to Drive TVE Awareness
On-Demand

---
---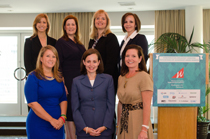 A TOUCH OF LEADERSHIP: At the PowerBrokers Breakfast of the WICT Washington, DC/Baltimore Chapter in Washington, DC on October 29, Touchstones of Leadership Award Honorees, were (top row, L-R) Discovery Comm's Catherine Frymark, Scripps Nets' Suzanne Underwald, Comcast's Samantha Callahan, TWC's Becky Bobzien-Simms, (bottom row, L-R) Travel Channel's Meghan Rodgers, the FCC's Michelle Carey & NBCU's Meredith Attwell Baker.






June 9, 2009

CMC Offers VOD with Nielsen Ratings

The Comcast Media Center's national VOD platform, which reaches more than 30 million VOD-enabled homes, now offers a "C3 VOD" service for delivering TV programming that can be counted in time-shifted measurement using The Nielsen Company's C3 commercial ratings. C3 ratings measure the average commercial minutes in programs that were viewed live and time-shifted through VOD or DVR playback in the three days following a linear broadcast. The CMC also announced that three cable networks are already planning to use the service, including AMC.

The CMC's C3 VOD service uses its rapid-turn capabilities to acquire linear TV programs during their original broadcast, provide real-time encoding of the program, including the original advertising, and incorporate the profiles for C3 commercial ratings provided by The Nielsen Co. The VOD-encoded programs are delivered to local cable systems for time-shifted viewing within hours of the original broadcast.