CableFAX Contest - Describe the cable industry in 5 words for a chance to win a $50 Amazon gift card!
Sign up for The Skinny from CableFAX - Free Weekly Eletter
Awards --
Call for Entries & Events:

CableFAX's Most Powerful Women in Cable Breakfast
November 21 - NYC
Photos from the Event

CableFAX's Best of the Web & Digital Marketing Awards
Deadline: December 6
Enter Today!

Webinars:

Establish Cable PR and Brand Leadership with Content Marketing
December 17
Register Now!

Selling TV Everywhere: Marketing and PR Strategies to Drive TVE Awareness
On-Demand

---
---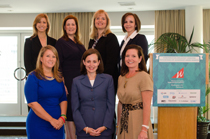 A TOUCH OF LEADERSHIP: At the PowerBrokers Breakfast of the WICT Washington, DC/Baltimore Chapter in Washington, DC on October 29, Touchstones of Leadership Award Honorees, were (top row, L-R) Discovery Comm's Catherine Frymark, Scripps Nets' Suzanne Underwald, Comcast's Samantha Callahan, TWC's Becky Bobzien-Simms, (bottom row, L-R) Travel Channel's Meghan Rodgers, the FCC's Michelle Carey & NBCU's Meredith Attwell Baker.






March 10, 2011

BigBand Struts Stuff at Chinese Conference

At the 19th China Content Broadcasting Network Exhibition (CCBN2011), March 23-25, in Beijing, BigBand Networks will showcase solutions designed to enable Chinese service providers to optimize bandwidth, expand their channel lineups and make the shift to carry more HD programming, for both linear and on-demand delivery.

China's State Administration of Radio, Film, and TV (SARFT) estimates that the average number of total TV subscribers in the country has been growing by around 8 to 10 million a year, while new digital subscribers are being added at a rate of 15 to 18 million a year.

BigBand's industry experts will be on-hand to discuss and demonstrate the company's broadcast, switched digital video (SDV), and IP-video solutions as follows:

BigBand BEQ Edge QAM platform that combines a compact form factor with high reliability and simplified operations for broadcast, SDV, video on demand (VOD), IP video, and modular CMTS services.
BigBand SDV solution, allowing operators to deliver more HD programming and other services without substantially re-allocating bandwidth.
BigBand vIP PASS end-to-end video IP delivery solution designed to help capitalize on existing SDV infrastructure and deliver video streams to IP-enabled devices.
BigBand Broadcast Video platform, featuring BigBand's BMR, a broadband multimedia service router that offers 99.999% availability to provide the continuous systems operation necessary to support digital TV management, deep digital transport, digital ad insertion, HDTV and SDV.