Sign up for The Skinny from CableFAX - Free Weekly Eletter
Awards --
Call for Entries & Events:

CableMania with Cablefax & AXS TV - April 30
RSVP Today!

Call for Nominations - Top Operators
Nomination Deadline: May 2
Enter Now!

CableFAX's Digital & Tech Summit: May 21
Yale Club | NYC
Register Now!

Call for Entries - Program Awards
Entry Deadline: June 20
Enter Today!

Complete List of Events
Webinars:

Participation TV 2.0: Turning Audience Involvement Into Profit
May 7
Register Now!

Monetizing Social TV: New Tools and Tactics for Success
March 25
On-Demand

---
---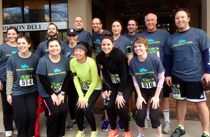 CABLE SHAPES UP! Members of CableFit #teamplatform at NCTA get ready to run a St. Patrick's Day 8K road race, spanning the U.S. Capitol grounds and National Mall on March 9, (back row, l. to r.): Julie Hance, Ethan Buch, Frank Gallagher, Kristin Buch, Steven Morris, Lisa Hamilton, Scot Donaldson, Rob Stoddard, Rick Stoddard; (front row, l. to r.): Kelly Allers, Kat Stewart, Esther Song, Carleigh Blewett, Lisa Otto. NCTA's team finished 11th in a field of 54.







March 10, 2011

BigBand Struts Stuff at Chinese Conference

At the 19th China Content Broadcasting Network Exhibition (CCBN2011), March 23-25, in Beijing, BigBand Networks will showcase solutions designed to enable Chinese service providers to optimize bandwidth, expand their channel lineups and make the shift to carry more HD programming, for both linear and on-demand delivery.

China's State Administration of Radio, Film, and TV (SARFT) estimates that the average number of total TV subscribers in the country has been growing by around 8 to 10 million a year, while new digital subscribers are being added at a rate of 15 to 18 million a year.

BigBand's industry experts will be on-hand to discuss and demonstrate the company's broadcast, switched digital video (SDV), and IP-video solutions as follows:

BigBand BEQ Edge QAM platform that combines a compact form factor with high reliability and simplified operations for broadcast, SDV, video on demand (VOD), IP video, and modular CMTS services.
BigBand SDV solution, allowing operators to deliver more HD programming and other services without substantially re-allocating bandwidth.
BigBand vIP PASS end-to-end video IP delivery solution designed to help capitalize on existing SDV infrastructure and deliver video streams to IP-enabled devices.
BigBand Broadcast Video platform, featuring BigBand's BMR, a broadband multimedia service router that offers 99.999% availability to provide the continuous systems operation necessary to support digital TV management, deep digital transport, digital ad insertion, HDTV and SDV.