CableFAX Contest - Describe the cable industry in 5 words for a chance to win a $50 Amazon gift card!
Sign up for The Skinny from CableFAX - Free Weekly Eletter
Awards --
Call for Entries & Events:

CableFAX's Most Powerful Women in Cable Breakfast
November 21 - NYC
Photos from the Event

CableFAX's Best of the Web & Digital Marketing Awards
Deadline: December 6
Enter Today!

Webinars:

Establish Cable PR and Brand Leadership with Content Marketing
December 17
Register Now!

Selling TV Everywhere: Marketing and PR Strategies to Drive TVE Awareness
On-Demand

---
---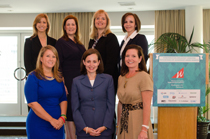 A TOUCH OF LEADERSHIP: At the PowerBrokers Breakfast of the WICT Washington, DC/Baltimore Chapter in Washington, DC on October 29, Touchstones of Leadership Award Honorees, were (top row, L-R) Discovery Comm's Catherine Frymark, Scripps Nets' Suzanne Underwald, Comcast's Samantha Callahan, TWC's Becky Bobzien-Simms, (bottom row, L-R) Travel Channel's Meghan Rodgers, the FCC's Michelle Carey & NBCU's Meredith Attwell Baker.






December 16, 2011

Rutledge Resigns from Cablevision

Tom Rutledge, chief operating officer of Cablevision Systems, has informed the company he will resign effective December 19.

Rutledge joined Cablevision in 2002 as the company's president of cable and communications. He became chief operating officer in 2004, assuming additional responsibilities for Cablevision's Rainbow Media (now called AMC Networks); Local Media properties including Newsday and other businesses and administrative functions.

"Everything I hoped for when I came to Cablevision has come true. I am proud of our record of success, and of the strong leadership team that remains in place to continue this work," Rutledge said in a statement. "I have spent my entire working life - 34 years - in the cable industry, but my decade at Cablevision will always stand out because of the things we were able to achieve and the value we were able to deliver to customers in the most competitive market in the nation."

Cablevision indicated it has an experienced senior management team in place overseeing cable and its other businesses, and that it has commenced a search for an executive with responsibility for oversight of the cable operations.