Sign up for The Skinny from CableFAX - Free Weekly Eletter
Awards --
Call for Entries & Events:

CableFAX Most Powerful Women & Most Influential Minorities in Cable
Deadline: May 17
Free to Nominate

CableFAX Program Awards
Call for Entries: June 21
Enter today!

CableFAXIES & Sales Executive of the Year Awards Breakfast
June 24
Register today!

Complete List of Events

Webinars:

Vine, Viggle, GetGlue:
Leveraging the Newest Social Media Apps to Drive Engagement and Brand Awareness
On-Demand

Capitalizing on Cloud Management and Navigation

Video On Demand Next Practices: Capitalizing on the Latest Innovations
On Demand

Killer Cable Apps: Using Online Games and Apps to Drive Consumer Engagement
On Demand


---
---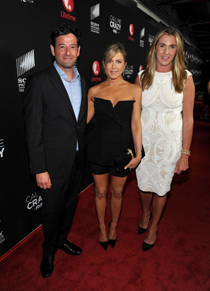 CALL ME CRAZY. On April 16, 2013, Lifetime and Sony Pictures Television held a premiere event for the Lifetime Original Movie "CALL Me Crazy: A Five Film" at the Pacific Design Center in Los Angeles. L to R: Rob Sharenow, evp, Programming, Lifetime Networks; Jennifer Aniston, Executive Producer of "Call Me Crazy"; and Nancy Dubuc, pres, Entertainment and Media, A+E Nets. Debuts April 20, 8pm. Photo by John Shearer/Invision for Lifetime/AP Images.





December 16, 2011

Rutledge Resigns from Cablevision

Tom Rutledge, chief operating officer of Cablevision Systems, has informed the company he will resign effective December 19.

Rutledge joined Cablevision in 2002 as the company's president of cable and communications. He became chief operating officer in 2004, assuming additional responsibilities for Cablevision's Rainbow Media (now called AMC Networks); Local Media properties including Newsday and other businesses and administrative functions.

"Everything I hoped for when I came to Cablevision has come true. I am proud of our record of success, and of the strong leadership team that remains in place to continue this work," Rutledge said in a statement. "I have spent my entire working life - 34 years - in the cable industry, but my decade at Cablevision will always stand out because of the things we were able to achieve and the value we were able to deliver to customers in the most competitive market in the nation."

Cablevision indicated it has an experienced senior management team in place overseeing cable and its other businesses, and that it has commenced a search for an executive with responsibility for oversight of the cable operations.