CableFAX Contest - Describe the cable industry in 5 words for a chance to win a $50 Amazon gift card!
Sign up for The Skinny from CableFAX - Free Weekly Eletter
Awards --
Call for Entries & Events:

CableFAX's Most Powerful Women in Cable Breakfast
November 21 - NYC
Photos from the Event

CableFAX's Best of the Web & Digital Marketing Awards
Deadline: December 6
Enter Today!

Webinars:

Establish Cable PR and Brand Leadership with Content Marketing
December 17
Register Now!

Selling TV Everywhere: Marketing and PR Strategies to Drive TVE Awareness
On-Demand

---
---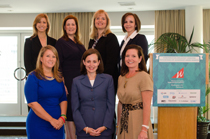 A TOUCH OF LEADERSHIP: At the PowerBrokers Breakfast of the WICT Washington, DC/Baltimore Chapter in Washington, DC on October 29, Touchstones of Leadership Award Honorees, were (top row, L-R) Discovery Comm's Catherine Frymark, Scripps Nets' Suzanne Underwald, Comcast's Samantha Callahan, TWC's Becky Bobzien-Simms, (bottom row, L-R) Travel Channel's Meghan Rodgers, the FCC's Michelle Carey & NBCU's Meredith Attwell Baker.






November 16, 2012

People Watch 11/16/12

Marco Lopez, who has been serving as senior vice president/Infrastructure, Routers and Monitoring at Miranda Technologies, was promoted to president effective Nov. 1. He's now responsible for all of the company's operations worldwide, and he reports to CEO Strath Goodship. Scott Murray assumes Marco's role…Paul Bay, who had been executive vice president at Ingram Micro North America, now is acting president, reporting to Alain Monié, president and CEO at Ingram Micro Inc. Bay replaces Keith Bradley, who will step down from that position at the end of this year, at which time Bay will become senior executive vice president and president/Ingram Micro North America. Bradley will remain with the company through March 1, 2013, "to assist Bay during this time and to help ensure continuity and a seamless transition," the company says.