CableFAX Contest - Describe the cable industry in 5 words for a chance to win a $50 Amazon gift card!
Sign up for The Skinny from CableFAX - Free Weekly Eletter
Awards --
Call for Entries & Events:

CableFAX's Most Powerful Women in Cable Breakfast
November 21 - NYC
Photos from the Event

CableFAX's Best of the Web & Digital Marketing Awards
Deadline: December 6
Enter Today!

Webinars:

Establish Cable PR and Brand Leadership with Content Marketing
December 17
Register Now!

Selling TV Everywhere: Marketing and PR Strategies to Drive TVE Awareness
On-Demand

---
---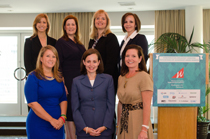 A TOUCH OF LEADERSHIP: At the PowerBrokers Breakfast of the WICT Washington, DC/Baltimore Chapter in Washington, DC on October 29, Touchstones of Leadership Award Honorees, were (top row, L-R) Discovery Comm's Catherine Frymark, Scripps Nets' Suzanne Underwald, Comcast's Samantha Callahan, TWC's Becky Bobzien-Simms, (bottom row, L-R) Travel Channel's Meghan Rodgers, the FCC's Michelle Carey & NBCU's Meredith Attwell Baker.






November 14, 2012

People Watch 11/14/12

Stephen Bye, CTO and senior vice president/Technology Development & Corporate Strategy at Sprint, is the new first vice chair of the ATIS board of directors. Nick Adamo, senior vice president/Global Segments & Architecture at Cisco Systems, was elected board secretary…Jeff Buzzelli now is senior vice president/Business Services for Comcast's Northeast division, responsible for developing, facilitating and implementing strategies aimed at growing Comcast Business Class across 14 northeastern states from Maine through Virginia and the District of Columbia…Francesco Vadalà of Telecom Italia was named chairman of the Open Mobile Alliance's Technical Plenary, joined by Kepeng Li of Huawei, a new Technical Plenary vice chairman. Along with Technical Plenary vice chairman Roland Hechwartner of T-Mobile, the three will lead the Alliance's Technical Work Program.