CableFAX Contest - Describe the cable industry in 5 words for a chance to win a $50 Amazon gift card!
Sign up for The Skinny from CableFAX - Free Weekly Eletter
Awards --
Call for Entries & Events:

CableFAX's Most Powerful Women in Cable Breakfast
November 21 - NYC
Photos from the Event

CableFAX's Best of the Web & Digital Marketing Awards
Deadline: December 6
Enter Today!

Webinars:

Establish Cable PR and Brand Leadership with Content Marketing
December 17
Register Now!

Selling TV Everywhere: Marketing and PR Strategies to Drive TVE Awareness
On-Demand

---
---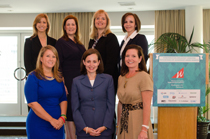 A TOUCH OF LEADERSHIP: At the PowerBrokers Breakfast of the WICT Washington, DC/Baltimore Chapter in Washington, DC on October 29, Touchstones of Leadership Award Honorees, were (top row, L-R) Discovery Comm's Catherine Frymark, Scripps Nets' Suzanne Underwald, Comcast's Samantha Callahan, TWC's Becky Bobzien-Simms, (bottom row, L-R) Travel Channel's Meghan Rodgers, the FCC's Michelle Carey & NBCU's Meredith Attwell Baker.






December 14, 2011

Verizon Goes Toe-to-Toe With Cablevision in Lawsuit

Last week, Cablevision Systems filed a lawsuit to stop a Verizon advertising campaign, which it claims makes intentionally false and misleading statements related to Cablevision's high-speed Internet service. (For more, see Cablevision Sues Verizon Over High-Speed Internet Ads).

Verizon has responded in Federal Court with the following statement:

"This case is about deceptive marketing - Cablevision's. Cablevision's Internet service has been and continues to fall short of what consumers are being told. The best that Cablevision can claim is that it is not misrepresenting its broadband speeds quite as much today as in the past. Consumers deserve to get the broadband speeds they are promised, but they don't with Cablevision. To try to compete with Verizon's state-of-the-art FiOS services, Cablevision has concealed its inferior broadband performance from consumers for years, and continues to do so today.

"In August, the Federal Communications Commission issued an official report on 'Measuring Broadband America,' available at: www.fcc.gov/measuring-broadband-america. In its study of broadband speeds, the FCC found that the Internet speeds Cablevision actually provided customers fell far below the speeds that Cablevision advertised. But faced with these facts, Cablevision refused to correct its advertising, and continued – and continues to this day – to misinform consumers.

"Verizon's advertising campaign simply highlights the reality of Cablevision's inferior service to consumers. Verizon's advertising claims are correct and true. Despite whatever 'fixes' Cablevision claims to have been recently made, its own evidence proves that, even today, Cablevision's actual speeds still fall short of its advertising."