Sign up for The Skinny from CableFAX - Free Weekly Eletter
Awards --
Call for Entries & Events:

CableMania with Cablefax & AXS TV - April 30
RSVP Today!

Call for Nominations - Top Operators
Nomination Deadline: May 2
Enter Now!

CableFAX's Digital & Tech Summit: May 21
Yale Club | NYC
Register Now!

Call for Entries - Program Awards
Entry Deadline: June 20
Enter Today!

Complete List of Events
Webinars:

Participation TV 2.0: Turning Audience Involvement Into Profit
May 7
Register Now!

Monetizing Social TV: New Tools and Tactics for Success
March 25
On-Demand

---
---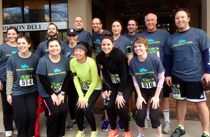 CABLE SHAPES UP! Members of CableFit #teamplatform at NCTA get ready to run a St. Patrick's Day 8K road race, spanning the U.S. Capitol grounds and National Mall on March 9, (back row, l. to r.): Julie Hance, Ethan Buch, Frank Gallagher, Kristin Buch, Steven Morris, Lisa Hamilton, Scot Donaldson, Rob Stoddard, Rick Stoddard; (front row, l. to r.): Kelly Allers, Kat Stewart, Esther Song, Carleigh Blewett, Lisa Otto. NCTA's team finished 11th in a field of 54.







December 14, 2011

Verizon Goes Toe-to-Toe With Cablevision in Lawsuit

Last week, Cablevision Systems filed a lawsuit to stop a Verizon advertising campaign, which it claims makes intentionally false and misleading statements related to Cablevision's high-speed Internet service. (For more, see Cablevision Sues Verizon Over High-Speed Internet Ads).

Verizon has responded in Federal Court with the following statement:

"This case is about deceptive marketing - Cablevision's. Cablevision's Internet service has been and continues to fall short of what consumers are being told. The best that Cablevision can claim is that it is not misrepresenting its broadband speeds quite as much today as in the past. Consumers deserve to get the broadband speeds they are promised, but they don't with Cablevision. To try to compete with Verizon's state-of-the-art FiOS services, Cablevision has concealed its inferior broadband performance from consumers for years, and continues to do so today.

"In August, the Federal Communications Commission issued an official report on 'Measuring Broadband America,' available at: www.fcc.gov/measuring-broadband-america. In its study of broadband speeds, the FCC found that the Internet speeds Cablevision actually provided customers fell far below the speeds that Cablevision advertised. But faced with these facts, Cablevision refused to correct its advertising, and continued – and continues to this day – to misinform consumers.

"Verizon's advertising campaign simply highlights the reality of Cablevision's inferior service to consumers. Verizon's advertising claims are correct and true. Despite whatever 'fixes' Cablevision claims to have been recently made, its own evidence proves that, even today, Cablevision's actual speeds still fall short of its advertising."