CableFAX Contest - Describe the cable industry in 5 words for a chance to win a $50 Amazon gift card!
Sign up for The Skinny from CableFAX - Free Weekly Eletter
Awards --
Call for Entries & Events:

CableFAX's Most Powerful Women in Cable Breakfast
November 21 - NYC
Photos from the Event

CableFAX's Best of the Web & Digital Marketing Awards
Deadline: December 6
Enter Today!

Webinars:

Establish Cable PR and Brand Leadership with Content Marketing
December 17
Register Now!

Selling TV Everywhere: Marketing and PR Strategies to Drive TVE Awareness
On-Demand

---
---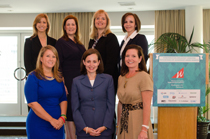 A TOUCH OF LEADERSHIP: At the PowerBrokers Breakfast of the WICT Washington, DC/Baltimore Chapter in Washington, DC on October 29, Touchstones of Leadership Award Honorees, were (top row, L-R) Discovery Comm's Catherine Frymark, Scripps Nets' Suzanne Underwald, Comcast's Samantha Callahan, TWC's Becky Bobzien-Simms, (bottom row, L-R) Travel Channel's Meghan Rodgers, the FCC's Michelle Carey & NBCU's Meredith Attwell Baker.






December 13, 2011

Verizon Extends 100G With Cisco CRS-3

To meet the growing traffic demand created by video, mobile and cloud services, Verizon will upgrade its IP network infrastructure in selected U.S. markets, including Atlanta, Boston, Chicago, Dallas, Los Angeles, New York and Seattle.

Verizon will extend its next-generation 100G capabilities by deploying Cisco's CRS-3 Carrier Routing System platform to terminate high-speed connections closer to the "edge" – the part of the network nearer to the customer's network facilities. This advanced platform, which will be deployed in the first half of 2012, will enable the network to accommodate growth where traffic demand is the greatest.

Verizon will deploy the CRS-3 platform to provide 100G edge access to the IP network and upgrade its FiOS core network. Verizon has relied on Cisco's CRS-1 platform in the network for more than four years, allowing the company to transition to the CRS-3 platform, thereby simplifying network operations while enabling comprehensive system redundancy and network resiliency.



The CRS platform also plays a key role in Verizon's network evolution strategy to IPv6, the new Internet addressing system, by providing the flexibility to support the anticipated wave of IPv6 services while continuing to expand and sustain IPv4 services.