Sign up for The Skinny from CableFAX - Free Weekly Eletter
Awards --
Call for Entries & Events:

CableMania with Cablefax & AXS TV - April 30
RSVP Today!

CableFAX Tech Breakfast & Roundtable - May 1
Complimentary Registration!

Call for Nominations - Top Operators
Nomination Deadline: May 2
Enter Now!

CableFAX's Digital & Tech Summit: May 21
Yale Club | NYC
Register Now!

Complete List of Events
Webinars:

Participation TV 2.0: Turning Audience Involvement Into Profit
May 7
Register Now!

Monetizing Social TV: New Tools and Tactics for Success
March 25
On-Demand

---
---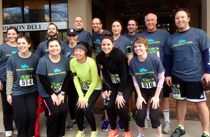 CABLE SHAPES UP! Members of CableFit #teamplatform at NCTA get ready to run a St. Patrick's Day 8K road race, spanning the U.S. Capitol grounds and National Mall on March 9, (back row, l. to r.): Julie Hance, Ethan Buch, Frank Gallagher, Kristin Buch, Steven Morris, Lisa Hamilton, Scot Donaldson, Rob Stoddard, Rick Stoddard; (front row, l. to r.): Kelly Allers, Kat Stewart, Esther Song, Carleigh Blewett, Lisa Otto. NCTA's team finished 11th in a field of 54.







December 13, 2011

Verizon Extends 100G With Cisco CRS-3

To meet the growing traffic demand created by video, mobile and cloud services, Verizon will upgrade its IP network infrastructure in selected U.S. markets, including Atlanta, Boston, Chicago, Dallas, Los Angeles, New York and Seattle.

Verizon will extend its next-generation 100G capabilities by deploying Cisco's CRS-3 Carrier Routing System platform to terminate high-speed connections closer to the "edge" – the part of the network nearer to the customer's network facilities. This advanced platform, which will be deployed in the first half of 2012, will enable the network to accommodate growth where traffic demand is the greatest.

Verizon will deploy the CRS-3 platform to provide 100G edge access to the IP network and upgrade its FiOS core network. Verizon has relied on Cisco's CRS-1 platform in the network for more than four years, allowing the company to transition to the CRS-3 platform, thereby simplifying network operations while enabling comprehensive system redundancy and network resiliency.



The CRS platform also plays a key role in Verizon's network evolution strategy to IPv6, the new Internet addressing system, by providing the flexibility to support the anticipated wave of IPv6 services while continuing to expand and sustain IPv4 services.