Sign up for The Skinny from CableFAX - Free Weekly Eletter
Awards --
Call for Entries & Events:

CableFAX Most Powerful Women & Most Influential Minorities in Cable
Deadline: May 17
Free to Nominate

CableFAX Program Awards
Call for Entries: June 21
Enter today!

CableFAXIES & Sales Executive of the Year Awards Breakfast
June 24
Register today!

Complete List of Events

Webinars:

Vine, Viggle, GetGlue:
Leveraging the Newest Social Media Apps to Drive Engagement and Brand Awareness
On-Demand

Capitalizing on Cloud Management and Navigation

Video On Demand Next Practices: Capitalizing on the Latest Innovations
On Demand

Killer Cable Apps: Using Online Games and Apps to Drive Consumer Engagement
On Demand


---
---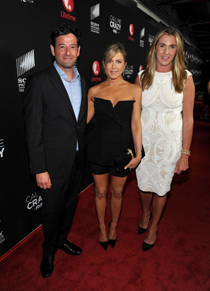 CALL ME CRAZY. On April 16, 2013, Lifetime and Sony Pictures Television held a premiere event for the Lifetime Original Movie "CALL Me Crazy: A Five Film" at the Pacific Design Center in Los Angeles. L to R: Rob Sharenow, evp, Programming, Lifetime Networks; Jennifer Aniston, Executive Producer of "Call Me Crazy"; and Nancy Dubuc, pres, Entertainment and Media, A+E Nets. Debuts April 20, 8pm. Photo by John Shearer/Invision for Lifetime/AP Images.





August 10, 2012

To Market, To Market 08/10/12

The TV Amplifier tool from digital video ad platform and solutions provider Videology allows advertisers to proactively manage reach, frequency, efficiency and effectiveness across TV and online video ad placements. Depending on campaign objectives, users reportedly can create custom segments based on specific programs or ads viewed, enabling marketers to target similar viewers across devices; extend a campaign with supplementary, interactive components; augment the frequency of a buy (or build awareness among light or hard-to-reach television viewers) with incremental cost increases using digital video; and determine cross-device duplicated and unduplicated reach with greater accuracy. In a July survey, Videology found that 78 percent of agency buyers and digital planners said digital video was supplemental to their television strategies, compared with 11 percent who saw video and television strategies as being totally separate. Another 11 percent said video was replacing their television strategies.