Sign up for The Skinny from CableFAX - Free Weekly Eletter
Awards --
Call for Entries & Events:

CableFAXIES Awards
More Information

CableMania: A Magical Mystery Tour with Cablefax & AXS TV - April 30
RSVP Today!

CableFAX Tech Breakfast & Roundtable - May 1
Complimentary Registration!

Call for Nominations - Top Operators
Nomination Deadline: May 2
Enter Now!

CableFAX's Digital & Tech Summit: May 21
Yale Club | NYC
Register Now!

Complete List of Events
Webinars:

Complimentary Webinar:
Boost Viewer Engagement with Entertainment Metadata
April 16
Register for Free

Participation TV 2.0: Turning Audience Involvement Into Profit
May 7
Register Now!

Monetizing Social TV: New Tools and Tactics for Success
March 25
On-Demand

---
---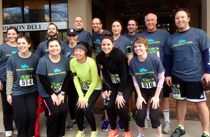 CABLE SHAPES UP! Members of CableFit #teamplatform at NCTA get ready to run a St. Patrick's Day 8K road race, spanning the U.S. Capitol grounds and National Mall on March 9, (back row, l. to r.): Julie Hance, Ethan Buch, Frank Gallagher, Kristin Buch, Steven Morris, Lisa Hamilton, Scot Donaldson, Rob Stoddard, Rick Stoddard; (front row, l. to r.): Kelly Allers, Kat Stewart, Esther Song, Carleigh Blewett, Lisa Otto. NCTA's team finished 11th in a field of 54.







December 9, 2011

Sunrise Telecom Adds to Fiber Inspection Capabilities

The addition of new modules to Sunrise Telecom's product lineup provides more test and verification capabilities for operators deploying fiber optic infrastructures that enable new voice and data business services, next-generation mobile communications and cloud-based applications. The new products are the RxT-4000 Fiber Optics Toolkit (FOT) and the FiberScope inspection option.

When paired with the rugged, battery-operated RxT Smart Productivity Test Platform, the RxT FOT module is an integral solution for installation, troubleshooting, and maintenance of Carrier Ethernet and SONET/SDH fiber optic cables. Combined with the RxT's portfolio of modules, which include solutions for 10GE, SONET/SDH and T1/E1, the RxT can now test from physical layer to services with one test set, resulting in shorter learning and training time for users.

Using Sunrise Telecom's new fiber optics solution, communications service providers deploying new broadband networks can inspect fiber connectors, analyze fiber for impairments and, if necessary, pinpoint the location and identity of the impairments. The RxT FOT, which is available in multiple wavelength combinations for testing single-mode and multi-mode fibers, features fiber optics characterization, which records event location and identity for the fiber under test.