CableFAX Contest - Describe the cable industry in 5 words for a chance to win a $50 Amazon gift card!
Sign up for The Skinny from CableFAX - Free Weekly Eletter
Awards --
Call for Entries & Events:

CableFAX's Most Powerful Women in Cable Breakfast
November 21 - NYC
Photos from the Event

CableFAX's Best of the Web & Digital Marketing Awards
Deadline: December 6
Enter Today!

Webinars:

Establish Cable PR and Brand Leadership with Content Marketing
December 17
Register Now!

Selling TV Everywhere: Marketing and PR Strategies to Drive TVE Awareness
On-Demand

---
---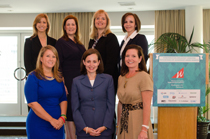 A TOUCH OF LEADERSHIP: At the PowerBrokers Breakfast of the WICT Washington, DC/Baltimore Chapter in Washington, DC on October 29, Touchstones of Leadership Award Honorees, were (top row, L-R) Discovery Comm's Catherine Frymark, Scripps Nets' Suzanne Underwald, Comcast's Samantha Callahan, TWC's Becky Bobzien-Simms, (bottom row, L-R) Travel Channel's Meghan Rodgers, the FCC's Michelle Carey & NBCU's Meredith Attwell Baker.






December 9, 2011

Sunrise Telecom Adds to Fiber Inspection Capabilities

The addition of new modules to Sunrise Telecom's product lineup provides more test and verification capabilities for operators deploying fiber optic infrastructures that enable new voice and data business services, next-generation mobile communications and cloud-based applications. The new products are the RxT-4000 Fiber Optics Toolkit (FOT) and the FiberScope inspection option.

When paired with the rugged, battery-operated RxT Smart Productivity Test Platform, the RxT FOT module is an integral solution for installation, troubleshooting, and maintenance of Carrier Ethernet and SONET/SDH fiber optic cables. Combined with the RxT's portfolio of modules, which include solutions for 10GE, SONET/SDH and T1/E1, the RxT can now test from physical layer to services with one test set, resulting in shorter learning and training time for users.

Using Sunrise Telecom's new fiber optics solution, communications service providers deploying new broadband networks can inspect fiber connectors, analyze fiber for impairments and, if necessary, pinpoint the location and identity of the impairments. The RxT FOT, which is available in multiple wavelength combinations for testing single-mode and multi-mode fibers, features fiber optics characterization, which records event location and identity for the fiber under test.