Sign up for The Skinny from CableFAX - Free Weekly Eletter
Awards --
Call for Entries & Events:

CableMania with Cablefax & AXS TV - April 30
RSVP Today!

Call for Nominations - Top Operators
Nomination Deadline: May 2
Enter Now!

CableFAX's Digital & Tech Summit: May 21
Yale Club | NYC
Register Now!

Call for Entries - Program Awards
Entry Deadline: June 20
Enter Today!

Complete List of Events
Webinars:

Participation TV 2.0: Turning Audience Involvement Into Profit
May 7
Register Now!

Monetizing Social TV: New Tools and Tactics for Success
March 25
On-Demand

---
---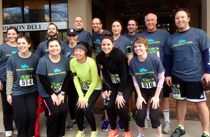 CABLE SHAPES UP! Members of CableFit #teamplatform at NCTA get ready to run a St. Patrick's Day 8K road race, spanning the U.S. Capitol grounds and National Mall on March 9, (back row, l. to r.): Julie Hance, Ethan Buch, Frank Gallagher, Kristin Buch, Steven Morris, Lisa Hamilton, Scot Donaldson, Rob Stoddard, Rick Stoddard; (front row, l. to r.): Kelly Allers, Kat Stewart, Esther Song, Carleigh Blewett, Lisa Otto. NCTA's team finished 11th in a field of 54.







December 6, 2011

Secure Internet Identity Goes Beyond Passwords

Today's password-focused website login process is unsafe and risky and has led to personal information and data being compromised through phishing and hacking attacks on weak systems. The potentially devastating consequences associated with the hijacking and theft of digital identities highlights the need for a trusted and certified framework that relying parties can depend on for identity authentication.

Verizon, which was one of the founding members of the Open Identity Exchange (OIX), has achieved a Level 3 U.S. Government certification in providing identity credentials and access management to relying parties. Beyond providing a safeguard for digital identities, certified identity providers will help speed Internet conversations, interactions and transactions.

OIX, its member companies and Verizon aim to provide an open framework that standardizes the security, privacy, and operation policies of identity service providers that people, businesses and governments can trust. 
The Internet identity ecosystem is quickly evolving with companies playing many different roles. The OIX is focused on the roles of attribute providers, identity providers, and relying parties.