CableFAX Contest - Describe the cable industry in 5 words for a chance to win a $50 Amazon gift card!
Sign up for The Skinny from CableFAX - Free Weekly Eletter
Awards --
Call for Entries & Events:

CableFAX's Most Powerful Women in Cable Breakfast
November 21 - NYC
Photos from the Event

CableFAX's Best of the Web & Digital Marketing Awards
Deadline: December 6
Enter Today!

Webinars:

Establish Cable PR and Brand Leadership with Content Marketing
December 17
Register Now!

Selling TV Everywhere: Marketing and PR Strategies to Drive TVE Awareness
On-Demand

---
---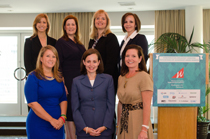 A TOUCH OF LEADERSHIP: At the PowerBrokers Breakfast of the WICT Washington, DC/Baltimore Chapter in Washington, DC on October 29, Touchstones of Leadership Award Honorees, were (top row, L-R) Discovery Comm's Catherine Frymark, Scripps Nets' Suzanne Underwald, Comcast's Samantha Callahan, TWC's Becky Bobzien-Simms, (bottom row, L-R) Travel Channel's Meghan Rodgers, the FCC's Michelle Carey & NBCU's Meredith Attwell Baker.






December 6, 2011

Secure Internet Identity Goes Beyond Passwords

Today's password-focused website login process is unsafe and risky and has led to personal information and data being compromised through phishing and hacking attacks on weak systems. The potentially devastating consequences associated with the hijacking and theft of digital identities highlights the need for a trusted and certified framework that relying parties can depend on for identity authentication.

Verizon, which was one of the founding members of the Open Identity Exchange (OIX), has achieved a Level 3 U.S. Government certification in providing identity credentials and access management to relying parties. Beyond providing a safeguard for digital identities, certified identity providers will help speed Internet conversations, interactions and transactions.

OIX, its member companies and Verizon aim to provide an open framework that standardizes the security, privacy, and operation policies of identity service providers that people, businesses and governments can trust. 
The Internet identity ecosystem is quickly evolving with companies playing many different roles. The OIX is focused on the roles of attribute providers, identity providers, and relying parties.