Sign up for The Skinny from CableFAX - Free Weekly Eletter
Awards --
Call for Entries & Events:

CableMania: A Magical Mystery Tour with Cablefax & AXS TV - April 30
RSVP Today!

CableFAX Tech Breakfast & Roundtable - May 1
Complimentary Registration!

Call for Nominations - Top Operators
Nomination Deadline: May 2
Enter Now!

CableFAX's Digital & Tech Summit: May 21
Yale Club | NYC
Register Now!

Complete List of Events
Webinars:

Participation TV 2.0: Turning Audience Involvement Into Profit
May 7
Register Now!

Monetizing Social TV: New Tools and Tactics for Success
March 25
On-Demand

---
---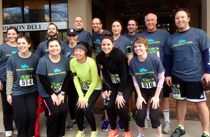 CABLE SHAPES UP! Members of CableFit #teamplatform at NCTA get ready to run a St. Patrick's Day 8K road race, spanning the U.S. Capitol grounds and National Mall on March 9, (back row, l. to r.): Julie Hance, Ethan Buch, Frank Gallagher, Kristin Buch, Steven Morris, Lisa Hamilton, Scot Donaldson, Rob Stoddard, Rick Stoddard; (front row, l. to r.): Kelly Allers, Kat Stewart, Esther Song, Carleigh Blewett, Lisa Otto. NCTA's team finished 11th in a field of 54.







August 10, 2011

ResNet Provider Chooses LogiSense For Billing, OSS

Austin, Texas-based Apogee, which runs on-campus residential networks (ResNet) for colleges and universities, just wrapped a deployment of EngageIP billing and OSS software made by Canada-based LogiSense.

Apogee's custom solutions integrate with the network infrastructure of colleges and universities to better manage users' increasing data consumption while simultaneously reducing the workload of campus administrators. According to its mission statement, the company says its ResNet services "allow colleges and universities to enhance their network infrastructure while offloading the growing volume of administrative responsibilities associated with managing a student network. This partnership allows IT to focus on the mission-critical tasks of the university, such as growing the enterprise network and facilitating the development and use of e-learning tools and content."

The company will cut over its full-scale implementation at the unnamed college sometime this month to coincide with students returning to school and registering for access with their respective managed broadband portals. Other Apogee schools include Centenary College of Louisiana, Southwestern University and Birmingham Southern College.

LogiSense's EngageIP products tackle specific network-usage-administration requirements, including billing, cost allocation, customer care, telecom rating and IP
services delivery. In a college environment, it can track spikes in broadband usage to help network administrators decide whether to throttle speeds or cap data usage.

"As service demand grows for broadband and media access across multiple devices, campus administrators are realizing that it is much more cost-effective to outsource for managed network services," says Nat Nealeigh, Apogee's director/Marketing and Communications. "With the tools LogiSense provides us, we can now offer specialized 
services such as tiered plans, flexible access periods and guest access."


Adds LogiSense Founder and President Flavio Gomes, "Access to the Internet and digital media is a critical component in higher learning. Today's youth spend an increasing amount of their time online, often using multiple devices for their academic, personal and social endeavors."


He continues, "As keeping up with these needs adds considerable strain to an already
 stressful time of the school year, outsourcing has become the most logical way to ease this burden."

Other LogiSense customers include Microsoft, Reuters, Infosat, DigiWeb, DigiWeb Ireland, Telesphere, Vibe Communications, PBXChange, ESCO Technologies, PCCW and MSTAR.