Sign up for The Skinny from CableFAX - Free Weekly Eletter
Awards --
Call for Entries & Events:

CableMania with Cablefax & AXS TV - April 30
RSVP Today!

Call for Nominations - Top Operators
Nomination Deadline: May 2
Enter Now!

CableFAX's Digital & Tech Summit: May 21
Yale Club | NYC
Register Now!

Call for Entries - Program Awards
Entry Deadline: June 20
Enter Today!

Complete List of Events
Webinars:

Participation TV 2.0: Turning Audience Involvement Into Profit
May 7
Register Now!

Monetizing Social TV: New Tools and Tactics for Success
March 25
On-Demand

---
---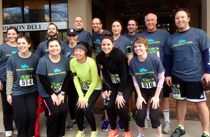 CABLE SHAPES UP! Members of CableFit #teamplatform at NCTA get ready to run a St. Patrick's Day 8K road race, spanning the U.S. Capitol grounds and National Mall on March 9, (back row, l. to r.): Julie Hance, Ethan Buch, Frank Gallagher, Kristin Buch, Steven Morris, Lisa Hamilton, Scot Donaldson, Rob Stoddard, Rick Stoddard; (front row, l. to r.): Kelly Allers, Kat Stewart, Esther Song, Carleigh Blewett, Lisa Otto. NCTA's team finished 11th in a field of 54.







December 8, 2011

Napatech Tests 10G, 40G

Napatech is offering advanced test and measurement features for both 10G and 40G applications. These features will allow OEM vendors to build powerful network test platforms based on standard off-the-shelf servers.

"To fully test Ethernet and IP networks, it is necessary to apply traffic at different network locations at the same time to observe network behavior," said Erik Norup, president Napatech, in a statement. "The challenge is to apply these traffic loads at exactly the right time. By synchronizing the traffic generation appliances with a high precision time source, we can control exactly when traffic load is applied allowing more effective testing."

The new Napatech feature set allows data transmission on multiple ports and adapters to be coordinated with nanosecond resolution. Triggered transmission based on time delays provides the user with accurate control over traffic generation. The solution takes advantage of existing Napatech time synchronization features, which allow Napatech network adapters to be time synchronized at different network locations using GPS, CDMA and IEEE1588v2/PTP protocols.

The coordinated and synchronized data transmission features can be used for both traffic generation and replay use cases. This allows pre-recorded data traffic to be loaded onto several test appliances before they are deployed and then replayed at exactly the right time. 

The coordinated and synchronized data transmission features are available on the Napatech 2x10 Gbps NT20E2, 4x10 Gbps NT40E2-4 and 1x40 Gbps NT40E2-1 network adapters for Linux, FreeBSD and Microsoft Windows operating systems.