CableFAX Contest - Describe the cable industry in 5 words for a chance to win a $50 Amazon gift card!
Sign up for The Skinny from CableFAX - Free Weekly Eletter
Awards --
Call for Entries & Events:

CableFAX's Most Powerful Women in Cable Breakfast
November 21 - NYC
Photos from the Event

CableFAX's Best of the Web & Digital Marketing Awards
Deadline: December 6
Enter Today!

Webinars:

How to Profit from Content Marketing in Cable
December 17
Register Now!

Selling TV Everywhere: Marketing and PR Strategies to Drive TVE Awareness
On-Demand

---
---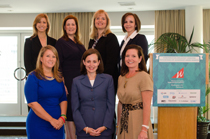 A TOUCH OF LEADERSHIP: At the PowerBrokers Breakfast of the WICT Washington, DC/Baltimore Chapter in Washington, DC on October 29, Touchstones of Leadership Award Honorees, were (top row, L-R) Discovery Comm's Catherine Frymark, Scripps Nets' Suzanne Underwald, Comcast's Samantha Callahan, TWC's Becky Bobzien-Simms, (bottom row, L-R) Travel Channel's Meghan Rodgers, the FCC's Michelle Carey & NBCU's Meredith Attwell Baker.






December 8, 2011

Napatech Tests 10G, 40G

Napatech is offering advanced test and measurement features for both 10G and 40G applications. These features will allow OEM vendors to build powerful network test platforms based on standard off-the-shelf servers.

"To fully test Ethernet and IP networks, it is necessary to apply traffic at different network locations at the same time to observe network behavior," said Erik Norup, president Napatech, in a statement. "The challenge is to apply these traffic loads at exactly the right time. By synchronizing the traffic generation appliances with a high precision time source, we can control exactly when traffic load is applied allowing more effective testing."

The new Napatech feature set allows data transmission on multiple ports and adapters to be coordinated with nanosecond resolution. Triggered transmission based on time delays provides the user with accurate control over traffic generation. The solution takes advantage of existing Napatech time synchronization features, which allow Napatech network adapters to be time synchronized at different network locations using GPS, CDMA and IEEE1588v2/PTP protocols.

The coordinated and synchronized data transmission features can be used for both traffic generation and replay use cases. This allows pre-recorded data traffic to be loaded onto several test appliances before they are deployed and then replayed at exactly the right time. 

The coordinated and synchronized data transmission features are available on the Napatech 2x10 Gbps NT20E2, 4x10 Gbps NT40E2-4 and 1x40 Gbps NT40E2-1 network adapters for Linux, FreeBSD and Microsoft Windows operating systems.