Sign up for The Skinny from CableFAX - Free Weekly Eletter
Awards --
Call for Entries & Events:

CableFAX Most Powerful Women & Most Influential Minorities in Cable
Deadline: May 17
Free to Nominate

CableFAX Program Awards
Call for Entries: June 21
Enter today!

CableFAXIES & Sales Executive of the Year Awards Breakfast
June 24
Register today!

Complete List of Events

Webinars:

Vine, Viggle, GetGlue:
Leveraging the Newest Social Media Apps to Drive Engagement and Brand Awareness
On-Demand

Capitalizing on Cloud Management and Navigation

Video On Demand Next Practices: Capitalizing on the Latest Innovations
On Demand

Killer Cable Apps: Using Online Games and Apps to Drive Consumer Engagement
On Demand


---
---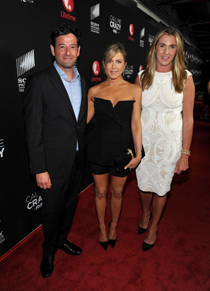 CALL ME CRAZY. On April 16, 2013, Lifetime and Sony Pictures Television held a premiere event for the Lifetime Original Movie "CALL Me Crazy: A Five Film" at the Pacific Design Center in Los Angeles. L to R: Rob Sharenow, evp, Programming, Lifetime Networks; Jennifer Aniston, Executive Producer of "Call Me Crazy"; and Nancy Dubuc, pres, Entertainment and Media, A+E Nets. Debuts April 20, 8pm. Photo by John Shearer/Invision for Lifetime/AP Images.





October 4, 2011

Level 3 Closes Global Crossing Acquisition

Level 3 Communications has completed its acquisition of Global Crossing Limited. The transaction was structured as a tax-free, stock-for-stock exchange. The company will use the Level 3 Communications name with a new brand identity that incorporates elements from both companies. In addition, the company announced plans to transfer the listing of its common stock to the New York Stock Exchange (NYSE), and expects to begin trading on the NYSE on Oct. 20, 2011, under its current ticker symbol "LVLT". The company will continue to trade on the NASDAQ Global Select Market until the transfer is completed. In conjunction with listing on NYSE, the company will implement a 1-for-15 reverse stock split of the Level 3 common stock.


Level 3 now will operate a services platform for medium to large enterprise, wholesale, content and government customers, anchored by extensive owned fiber networks on three continents in more than 45 countries as well as substantial undersea facilities.

"Our enterprise is now a global, state-of-the-art communications company that is substantially bigger and financially stronger, with an unrivaled IP/optical network and global reach, and an entrepreneurial culture singularly focused on the customer experience," said James Crowe, chief executive officer of Level 3, in a statement.

The company will operate through three geographically organized business units in EMEA (Europe, the Middle East and Africa), Latin America and North America, and each business unit will have one leader accountable for sales, operations and marketing for that region. Corporate functions will be centralized in North America and will support the company globally. The corporate headquarters of the company will remain in Broomfield, Colo. (For more, see How Level 3 Is Assembling A Powerhouse, One Company At A Time).