CableFAX Contest - Describe the cable industry in 5 words for a chance to win a $50 Amazon gift card!
Sign up for The Skinny from CableFAX - Free Weekly Eletter
Awards --
Call for Entries & Events:

CableFAX's Most Powerful Women in Cable Breakfast
November 21 - NYC
Photos from the Event

CableFAX's Best of the Web & Digital Marketing Awards
Deadline: December 6
Enter Today!

Webinars:

Establish Cable PR and Brand Leadership with Content Marketing
December 17
Register Now!

Selling TV Everywhere: Marketing and PR Strategies to Drive TVE Awareness
On-Demand

---
---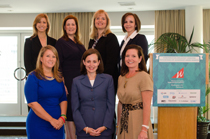 A TOUCH OF LEADERSHIP: At the PowerBrokers Breakfast of the WICT Washington, DC/Baltimore Chapter in Washington, DC on October 29, Touchstones of Leadership Award Honorees, were (top row, L-R) Discovery Comm's Catherine Frymark, Scripps Nets' Suzanne Underwald, Comcast's Samantha Callahan, TWC's Becky Bobzien-Simms, (bottom row, L-R) Travel Channel's Meghan Rodgers, the FCC's Michelle Carey & NBCU's Meredith Attwell Baker.






December 12, 2011

Hulu Identifies Actors Via the Click of a Mouse

Hulu has created a technology to help viewers identify actors in the shows and clips on Hulu. The Hulu Face Match Engine can tell viewers the name and other information about the actors in the video. Viewers simply hover their mouse over a character's face to activate the technology. In addition, Face Match will link to some of the actors' personal Facebook and Twitter accounts.

To use Face Match, viewers select the config button in the lower right corner of the video player while watching any show or clip. If Hulu Face Match is available for the video, there will be an option to turn the feature on.

According to a corporate blog posting by Zhibing Wang, Hulu director of research: "Face Match is still very much a work in progress - that's why it's in Hulu Labs - but we plan to increase the number of faces we recognize in shows and movies as we roll it out. To start, Face Match is available on all episodes from Glee, The Office, Wilfred, Modern Family and Lost."