Congratulations to the 2014 Digital Hot List - Register for the March 13 Luncheon Today!


Call for Contributors
- Social Media and Digital Marketing Guidebook
Sign up for The Skinny from CableFAX - Free Weekly Eletter
Awards --
Call for Entries & Events:

Cable Business Boot Camp
March 13 | NYC
Register Today!

Digital and Tech Awards Luncheon
March 13 | NYC
Register Today!

CableFAXIES Awards
Entry Deadline: March 21
Enter Now!

Call for Nominations - Top Operators
Nomination Deadline: April 11
Enter Now!

Complete List of Events
Webinars:

Monetizing Social TV: New Tools and Tactics for Success
March 25
Register Today!

The OTT Opportunity: How to Partner for Profit
On-Demand

---
---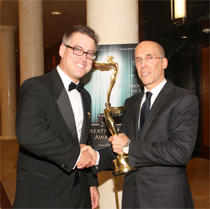 ANIMATION HONORS: 3net Studios President & CEO Tom Cosgrove, whose 4K original series Space: Unraveling the Cosmos won "Best Documentary" poses with DreamWorks Animation CEO Jeffrey Katzenberg, who was on-hand to accept the Harold Lloyd Filmmaker Award at The International 3D & Advanced Imaging Society's Awards Gala Tuesday night at Warner Bros Studios.






December 14, 2011

Could WiGig Spec Be The Home-Networking Magic Bullet?

The Wireless Gigabit (WiGig) Alliance just issued a call for developer involvement in crafting what it brags will be the world's first unified multi-gigabit wireless docking specification. Assuming WiGig is successful in creating its spec, what will emerge is the last key piece of a technology that could eliminate two things:

the need for wired HDMI in video applications, thus turning any single device connected to the Internet - including a cable box - into the home hub for all broadband connectivity; and
the need for the final curb-to-home cable or fiber link.

Wireless docking is a key goal of the Alliance along with wireless high-definition video and wireless networking. This new call for work on the docking spec comes on the heels of the publication earlier this month of two Protocol Adaptation Layer (PAL) specifications: the WiGig Display Extension (WDE) and the WiGig Serial Extension (WSE). Those join the WiGig Bus Extension (WBE) and MAC/PHY specs released earlier this year. The WiGig specs, based on the nascent IEEE 802.11ad spec, are expected to be finalized by the end of 2012.

"We have reached a major milestone this year with the completion of all the necessary components of the first ever multi-gigabit wireless docking specification," notes WiGig Alliance President/Chairman Dr. Ali Sadri, whose day job is director of Intel's Mobile Wireless Group. "We are now calling for industry players to participate in what will be the world's most important short-range wireless standard and a shake-up for the industry."

More than three dozen "developer" companies – including a host of industry heavyweights like Intel, Microsoft and NEC – that have joined the young Alliance since it was founded in May 2009 are being asked for input.

Sadri told CT Reports that WiGig creates "a new opportunity for the cable manufacturers and the box manufacturers to come up with something revolutionary that changes the profile of the display and of wireless connectivity."

WiGig, he adds, can be used to "create a cable-centric docking station for the home." Here's how it works: A cable box would be connected to a broadband network, and any WiGig-enabled video device – for example, a HD TV – could connect wirelessly if it is in range. That range, Sadri says, is about 15 meters inside a home, and it could deliver signals at speeds as fast as 7 Gbps. That's about 10 times the top speed of Wi-Fi. Desktop PCs, laptops, slates and even smartphones could connect to that same cable box, receiving broadband and sending video to the big screen.

The technology will, of course, be of equal use to cable competitors and, indeed, to any service provider able to squirt an IP stream to the home using any available technology.

Current estimates are that it will be another few years before WiGig ramps to high volume, perhaps by 2016. However, the first silicon implementations from several manufacturers – based on tentative, albeit not finalized, specs and most likely at speeds of 4 Gbps (faster than the roughly 3

Gbps needed for HDMI)

– are expected to be available in sample quantities next year, Sadri told us. One Israeli startup, Wilocity (founded by executives and engineers from Intel's Wi-Fi Centrino group), so far is first out of the gate with prototypes of a WiGig chip said to deliver 3.5 Gbps.

-Stuart Zipper