CableFAX Contest - Describe the cable industry in 5 words for a chance to win a $50 Amazon gift card!
Sign up for The Skinny from CableFAX - Free Weekly Eletter
Awards --
Call for Entries & Events:

CableFAX's Most Powerful Women in Cable Breakfast
November 21 - NYC
Photos from the Event

CableFAX's Best of the Web & Digital Marketing Awards
Deadline: December 6
Enter Today!

Webinars:

Establish Cable PR and Brand Leadership with Content Marketing
December 17
Register Now!

Selling TV Everywhere: Marketing and PR Strategies to Drive TVE Awareness
On-Demand

---
---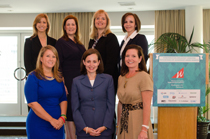 A TOUCH OF LEADERSHIP: At the PowerBrokers Breakfast of the WICT Washington, DC/Baltimore Chapter in Washington, DC on October 29, Touchstones of Leadership Award Honorees, were (top row, L-R) Discovery Comm's Catherine Frymark, Scripps Nets' Suzanne Underwald, Comcast's Samantha Callahan, TWC's Becky Bobzien-Simms, (bottom row, L-R) Travel Channel's Meghan Rodgers, the FCC's Michelle Carey & NBCU's Meredith Attwell Baker.






December 6, 2011

Cisco Connects the Clouds

Cisco today introduced CloudVerse, a framework that combines the foundational elements needed to enable organizations to build, manage and connect public, private and hybrid clouds. Cisco CloudVerse combines these key cloud elements - Unified Data Center, Cloud Intelligent Network, and Cloud Applications and Services.

Just last week, Cisco issued its Cloud Index, predicting that over 50 percent of computing workloads in data centers will be cloud-based by 2014, and that global cloud traffic will grow over 12 times by 2015, to 1.6 zettabytes per year. (For more, see Cisco: Most Cloud Traffic Not Caused by End Users).

Today, most cloud technologies exist in silos, preventing an efficient, integrated management approach. By integrating the three foundational cloud elements Cisco says CloudVerse delivers a business-class cloud experience within the cloud, between clouds, and beyond the cloud to the end user.

A number of enterprises, service providers, and governments are announcing today that they are adopting Cisco CloudVerse as the foundation of their cloud strategies, including ACS, a Xerox Company; Fujitsu; NWN; LinkedIn; Orange Business Services; Qualcomm; Silicon Valley Bank; Telecom Italia; Telefónica S.A.; Telstra; and Terremark, a Verizon Company.