Sign up for The Skinny from CableFAX - Free Weekly Eletter
Awards --
Call for Entries & Events:

CableMania: A Magical Mystery Tour with Cablefax & AXS TV - April 30
RSVP Today!

CableFAX Tech Breakfast & Roundtable - May 1
Complimentary Registration!

Call for Nominations - Top Operators
Nomination Deadline: May 2
Enter Now!

CableFAX's Digital & Tech Summit: May 21
Yale Club | NYC
Register Now!

Complete List of Events
Webinars:

Participation TV 2.0: Turning Audience Involvement Into Profit
May 7
Register Now!

Monetizing Social TV: New Tools and Tactics for Success
March 25
On-Demand

---
---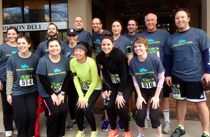 CABLE SHAPES UP! Members of CableFit #teamplatform at NCTA get ready to run a St. Patrick's Day 8K road race, spanning the U.S. Capitol grounds and National Mall on March 9, (back row, l. to r.): Julie Hance, Ethan Buch, Frank Gallagher, Kristin Buch, Steven Morris, Lisa Hamilton, Scot Donaldson, Rob Stoddard, Rick Stoddard; (front row, l. to r.): Kelly Allers, Kat Stewart, Esther Song, Carleigh Blewett, Lisa Otto. NCTA's team finished 11th in a field of 54.







December 6, 2011

Cisco Connects the Clouds

Cisco today introduced CloudVerse, a framework that combines the foundational elements needed to enable organizations to build, manage and connect public, private and hybrid clouds. Cisco CloudVerse combines these key cloud elements - Unified Data Center, Cloud Intelligent Network, and Cloud Applications and Services.

Just last week, Cisco issued its Cloud Index, predicting that over 50 percent of computing workloads in data centers will be cloud-based by 2014, and that global cloud traffic will grow over 12 times by 2015, to 1.6 zettabytes per year. (For more, see Cisco: Most Cloud Traffic Not Caused by End Users).

Today, most cloud technologies exist in silos, preventing an efficient, integrated management approach. By integrating the three foundational cloud elements Cisco says CloudVerse delivers a business-class cloud experience within the cloud, between clouds, and beyond the cloud to the end user.

A number of enterprises, service providers, and governments are announcing today that they are adopting Cisco CloudVerse as the foundation of their cloud strategies, including ACS, a Xerox Company; Fujitsu; NWN; LinkedIn; Orange Business Services; Qualcomm; Silicon Valley Bank; Telecom Italia; Telefónica S.A.; Telstra; and Terremark, a Verizon Company.