Congratulations to the 2014 Digital Hot List - Register for the March 13 Luncheon Today!


Call for Contributors
- Social Media and Digital Marketing Guidebook
Sign up for The Skinny from CableFAX - Free Weekly Eletter
Awards --
Call for Entries & Events:

Cable Business Boot Camp
March 13 | NYC
Register Today!

Digital and Tech Awards Luncheon
March 13 | NYC
Register Today!

CableFAXIES Awards
Entry Deadline: March 21
Enter Now!

Call for Nominations - Top Operators
Nomination Deadline: April 11
Enter Now!

Complete List of Events
Webinars:

Monetizing Social TV: New Tools and Tactics for Success
March 25
Register Today!

The OTT Opportunity: How to Partner for Profit
On-Demand

---
---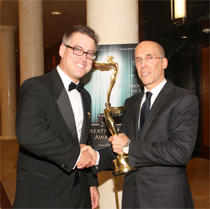 ANIMATION HONORS: 3net Studios President & CEO Tom Cosgrove, whose 4K original series Space: Unraveling the Cosmos won "Best Documentary" poses with DreamWorks Animation CEO Jeffrey Katzenberg, who was on-hand to accept the Harold Lloyd Filmmaker Award at The International 3D & Advanced Imaging Society's Awards Gala Tuesday night at Warner Bros Studios.






December 2, 2011

CenturyLink to Institute Excessive Internet Use Policy

CenturyLink has posted an Excessive Usage Policy (EUP) on its Website, which it says will become effective in February 2012.

CenturyLink's EUP applies to all residential high speed Internet customers and is only enforced in the downstream (from Internet to customer) direction. Video services provided by CenturyLink PRISM TV are not subject to the usage limits.

The policy has the following usage limits per calendar month:

Customers purchasing service at speeds of 1.5 Mbps and below, have a usage limit of 150 Gigabytes (GB) of download volume per month.
Customers purchasing service at speeds greater than 1.5 Mbps, have a limit of 250GB in download volume per month.
There are no overage charges or metering fees for usage as part of the policy.

The majority of CenturyLink High-Speed Internet customers make great use of their service and comply with the CenturyLink High-Speed Internet Subscriber Agreement. An extremely small percentage use their service excessively, or at such extreme high volumes, that they violate the terms of their CenturyLink High-Speed Internet Subscriber Agreement. While this high volume use is very rare, CenturyLink is committed to helping these customers find a high-speed Internet solution to better meet their needs.

CenturyLink will weigh variables such as network health, congestion, availability of customer usage data, and the line speed purchased by the customer as factors when enforcing this policy. Its EUP is application neutral. It only looks at the total usage (bytes transferred) over a defined period of time independent of protocols, applications, or the content that is generating the excessive usage.

Those customers that are found to have exceeded these limits and are subjected to EUP enforcement will receive a notification from CenturyLink (via a web message, email, or phone call), will be informed of the usage limit on the service, and will be advised of alternatives to consider in order to maintain their High Speed Internet service. This may include migrating to a higher speed if available or to a business grade data service that better fits their bandwidth usage.

 Customers who repetitively exceed their usage limits after being notified may have their service discontinued.