CableFAX Contest - Describe the cable industry in 5 words for a chance to win a $50 Amazon gift card!
Sign up for The Skinny from CableFAX - Free Weekly Eletter
Awards --
Call for Entries & Events:

CableFAX's Most Powerful Women in Cable Breakfast
November 21 - NYC
Photos from the Event

CableFAX's Best of the Web & Digital Marketing Awards
Deadline: December 6
Enter Today!

Webinars:

Establish Cable PR and Brand Leadership with Content Marketing
December 17
Register Now!

Selling TV Everywhere: Marketing and PR Strategies to Drive TVE Awareness
On-Demand

---
---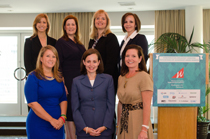 A TOUCH OF LEADERSHIP: At the PowerBrokers Breakfast of the WICT Washington, DC/Baltimore Chapter in Washington, DC on October 29, Touchstones of Leadership Award Honorees, were (top row, L-R) Discovery Comm's Catherine Frymark, Scripps Nets' Suzanne Underwald, Comcast's Samantha Callahan, TWC's Becky Bobzien-Simms, (bottom row, L-R) Travel Channel's Meghan Rodgers, the FCC's Michelle Carey & NBCU's Meredith Attwell Baker.






December 7, 2011

Cablevision Sues Verizon Over High-Speed Internet Ads

Cablevision Systems has filed a lawsuit in Federal Court seeking an end to a Verizon
 advertising campaign, which it claims makes intentionally false and misleading statements 
related to Cablevision's high-speed Internet service. Cablevision issued the following announcement:

"The FCC recently reported that Cablevision is delivering substantially faster Internet speeds than Verizon's ads claim they are. In fact, Cablevision's average download speeds are in excess of 90 percent of advertised broadband speeds during peak hours of use, and are above 100 
percent of advertised speeds on a 24-hour basis. Despite being fully aware of these facts, Verizon has refused to stop running its ads.

 Despite extensive communication between Cablevision and Verizon, and Verizon's knowledge that the advertising is false, the phone company has continued its campaign on television, radio, print, in direct mail and on its website. The complaint contends that in doing so, Verizon is knowingly misleading consumers."



Cablevision has filed the lawsuit seeking immediate relief in the U.S. District Court for the Eastern District of New York.