Sign up for The Skinny from CableFAX - Free Weekly Eletter
Awards --
Call for Entries & Events:

CableMania with Cablefax & AXS TV - April 30
RSVP Today!

Call for Nominations - Top Operators
Nomination Deadline: May 2
Enter Now!

CableFAX's Digital & Tech Summit: May 21
Yale Club | NYC
Register Now!

Call for Entries - Program Awards
Entry Deadline: June 20
Enter Today!

Complete List of Events
Webinars:

Participation TV 2.0: Turning Audience Involvement Into Profit
May 7
Register Now!

Monetizing Social TV: New Tools and Tactics for Success
March 25
On-Demand

---
---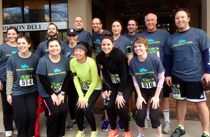 CABLE SHAPES UP! Members of CableFit #teamplatform at NCTA get ready to run a St. Patrick's Day 8K road race, spanning the U.S. Capitol grounds and National Mall on March 9, (back row, l. to r.): Julie Hance, Ethan Buch, Frank Gallagher, Kristin Buch, Steven Morris, Lisa Hamilton, Scot Donaldson, Rob Stoddard, Rick Stoddard; (front row, l. to r.): Kelly Allers, Kat Stewart, Esther Song, Carleigh Blewett, Lisa Otto. NCTA's team finished 11th in a field of 54.







December 7, 2011

Cablemás Taps Avail-TVN for Adaptive Bitrate VOD Service

Mexican service provider Cablemás will transition its video on demand (VOD) service to Avail-TVN to take advantage of the company's expansive video library and HTTP Live Streaming adaptive bitrate (ABR) service.

Under the terms of the agreement, Avail-TVN will deliver VOD content from studios, networks and specialty content providers to set-top boxes in more than 250,000 homes, and to other connected devices including PCs, tablets and smart phones, in the future. Avail-TVN's partners in the solution are Conax for content security; Cubiware for middleware; and Evolution Digital for the hybrid IP set top boxes.

Avail-TVN's ABR offering allows service providers to deliver high picture quality according to the user's bandwidth and device capability. Cablemás will re-launch VOD with Avail-TVN's VOD service in the first quarter of 2012.

Cablemás is the second-largest cable television operator in Mexico based on number of subscribers and homes passed. As of October 31, 2011, Cablemás' cable network served more than 1.05 million cable television subscribers, 438,504 high-speed Internet subscribers, and 254,698 telephony lines, with 3,024,558 homes passed.