CableFAX Contest - Describe the cable industry in 5 words for a chance to win a $50 Amazon gift card!
Sign up for The Skinny from CableFAX - Free Weekly Eletter
Awards --
Call for Entries & Events:

CableFAX's Most Powerful Women in Cable Breakfast
November 21 - NYC
Photos from the Event

CableFAX's Best of the Web & Digital Marketing Awards
Deadline: December 6
Enter Today!

Webinars:

Establish Cable PR and Brand Leadership with Content Marketing
December 17
Register Now!

Selling TV Everywhere: Marketing and PR Strategies to Drive TVE Awareness
On-Demand

---
---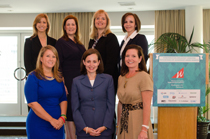 A TOUCH OF LEADERSHIP: At the PowerBrokers Breakfast of the WICT Washington, DC/Baltimore Chapter in Washington, DC on October 29, Touchstones of Leadership Award Honorees, were (top row, L-R) Discovery Comm's Catherine Frymark, Scripps Nets' Suzanne Underwald, Comcast's Samantha Callahan, TWC's Becky Bobzien-Simms, (bottom row, L-R) Travel Channel's Meghan Rodgers, the FCC's Michelle Carey & NBCU's Meredith Attwell Baker.






December 7, 2011

Cablemás Taps Avail-TVN for Adaptive Bitrate VOD Service

Mexican service provider Cablemás will transition its video on demand (VOD) service to Avail-TVN to take advantage of the company's expansive video library and HTTP Live Streaming adaptive bitrate (ABR) service.

Under the terms of the agreement, Avail-TVN will deliver VOD content from studios, networks and specialty content providers to set-top boxes in more than 250,000 homes, and to other connected devices including PCs, tablets and smart phones, in the future. Avail-TVN's partners in the solution are Conax for content security; Cubiware for middleware; and Evolution Digital for the hybrid IP set top boxes.

Avail-TVN's ABR offering allows service providers to deliver high picture quality according to the user's bandwidth and device capability. Cablemás will re-launch VOD with Avail-TVN's VOD service in the first quarter of 2012.

Cablemás is the second-largest cable television operator in Mexico based on number of subscribers and homes passed. As of October 31, 2011, Cablemás' cable network served more than 1.05 million cable television subscribers, 438,504 high-speed Internet subscribers, and 254,698 telephony lines, with 3,024,558 homes passed.