CableFAX Contest - Describe the cable industry in 5 words for a chance to win a $50 Amazon gift card!
Sign up for The Skinny from CableFAX - Free Weekly Eletter
Awards --
Call for Entries & Events:

CableFAX's Most Powerful Women in Cable Breakfast
November 21 - NYC
Photos from the Event

CableFAX's Best of the Web & Digital Marketing Awards
Deadline: December 6
Enter Today!

Webinars:

Establish Cable PR and Brand Leadership with Content Marketing
December 17
Register Now!

Selling TV Everywhere: Marketing and PR Strategies to Drive TVE Awareness
On-Demand

---
---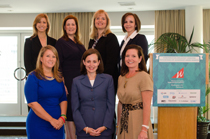 A TOUCH OF LEADERSHIP: At the PowerBrokers Breakfast of the WICT Washington, DC/Baltimore Chapter in Washington, DC on October 29, Touchstones of Leadership Award Honorees, were (top row, L-R) Discovery Comm's Catherine Frymark, Scripps Nets' Suzanne Underwald, Comcast's Samantha Callahan, TWC's Becky Bobzien-Simms, (bottom row, L-R) Travel Channel's Meghan Rodgers, the FCC's Michelle Carey & NBCU's Meredith Attwell Baker.






December 2, 2011

Atlanta Installs Integrated Surveillance System with Motorola's Help

Motorola Solutions has a contract to integrate the City of Atlanta's disparate public and private surveillance camera systems into one common operational environment in the Video Integration Center (VIC). Motorola's Global Services organization leads a team including ADT Commercial Security and CIBER, Inc. to provide a comprehensive solution for the city.

Motorola and ADT Commercial Security have completed the implementation of the first phase of the project by upgrading the city's existing cameras from analog to digital, and from leased line to wireless backhaul. ADT Government Services Division managed the installation of the wireless network and pan, tilt and zoom (PTZ) cameras in the downtown Atlanta Metro area.

For the next phase of the project, Motorola Global Services is integrating CIBER's advanced Physical Security Information Management (PSIM) solution. CIBERSecure will combine current and planned video camera systems in the city's downtown and mid-town areas into a single Command and Control display at Atlanta's E911 VIC. In addition, Motorola will architect and integrate the solution to provide scalability to realize the city's vision for public-private partnerships.

With the completion of the project, the Atlanta Police Department will have the ability to observe incidents as they happen, identify suspicious activity and perpetrators and deploy law enforcement personnel more efficiently.

The system will give the Atlanta Police Department the capability to integrate public and private video systems, video with computer aided dispatch (CAD), into an integrated suite of emergency dispatch applications that allow call takers and dispatchers to manage incident information more efficiently.

Motorola and ADT Commercial developed an innovative approach to integrate Atlanta's disparate networks of public and private surveillance systems into one common operational view, allowing city-wide compatibility. The integrated video surveillance system also will lay the groundwork for future enhancements, including the ability to stream live video to first responders.