Sign up for The Skinny from CableFAX - Free Weekly Eletter
Awards --
Call for Entries & Events:

CableMania with Cablefax & AXS TV - April 30
RSVP Today!

Call for Nominations - Top Operators
Nomination Deadline: May 2
Enter Now!

CableFAX's Digital & Tech Summit: May 21
Yale Club | NYC
Register Now!

Call for Entries - Program Awards
Entry Deadline: June 20
Enter Today!

Complete List of Events
Webinars:

Participation TV 2.0: Turning Audience Involvement Into Profit
May 7
Register Now!

Monetizing Social TV: New Tools and Tactics for Success
March 25
On-Demand

---
---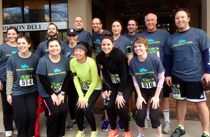 CABLE SHAPES UP! Members of CableFit #teamplatform at NCTA get ready to run a St. Patrick's Day 8K road race, spanning the U.S. Capitol grounds and National Mall on March 9, (back row, l. to r.): Julie Hance, Ethan Buch, Frank Gallagher, Kristin Buch, Steven Morris, Lisa Hamilton, Scot Donaldson, Rob Stoddard, Rick Stoddard; (front row, l. to r.): Kelly Allers, Kat Stewart, Esther Song, Carleigh Blewett, Lisa Otto. NCTA's team finished 11th in a field of 54.







December 14, 2011

Argentinean Operator Deploys Alcatel-Lucent's 100 Gigabit Optical Solution

Cablevision Argentina will deploy an advanced optical networking solution to deliver services at 100 Gbps (100G) speeds. Cablevision Argentina has selected Alcatel-Lucent's next-generation 100G optical coherent networking solution to dramatically increase performance and service speeds for its more than three million CATV customers and more than one million Internet users.

Alcatel-Lucent is supplying its 1830 Photonic Service Switch (PSS) featuring next-generation 100G coherent technology. Designed to address the booming bandwidth demands driven by video streaming, Web applications, file sharing and HD movies, next-generation 100G coherent technology is the compelling next step in optical networking, offering unprecedented resilience to optical transmission impairments across the network.