CableFAX Contest - Describe the cable industry in 5 words for a chance to win a $50 Amazon gift card!
Sign up for The Skinny from CableFAX - Free Weekly Eletter
Awards --
Call for Entries & Events:

CableFAX's Most Powerful Women in Cable Breakfast
November 21 - NYC
Photos from the Event

CableFAX's Best of the Web & Digital Marketing Awards
Deadline: December 6
Enter Today!

Webinars:

Establish Cable PR and Brand Leadership with Content Marketing
December 17
Register Now!

Selling TV Everywhere: Marketing and PR Strategies to Drive TVE Awareness
On-Demand

---
---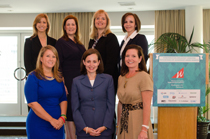 A TOUCH OF LEADERSHIP: At the PowerBrokers Breakfast of the WICT Washington, DC/Baltimore Chapter in Washington, DC on October 29, Touchstones of Leadership Award Honorees, were (top row, L-R) Discovery Comm's Catherine Frymark, Scripps Nets' Suzanne Underwald, Comcast's Samantha Callahan, TWC's Becky Bobzien-Simms, (bottom row, L-R) Travel Channel's Meghan Rodgers, the FCC's Michelle Carey & NBCU's Meredith Attwell Baker.






December 14, 2011

Argentinean Operator Deploys Alcatel-Lucent's 100 Gigabit Optical Solution

Cablevision Argentina will deploy an advanced optical networking solution to deliver services at 100 Gbps (100G) speeds. Cablevision Argentina has selected Alcatel-Lucent's next-generation 100G optical coherent networking solution to dramatically increase performance and service speeds for its more than three million CATV customers and more than one million Internet users.

Alcatel-Lucent is supplying its 1830 Photonic Service Switch (PSS) featuring next-generation 100G coherent technology. Designed to address the booming bandwidth demands driven by video streaming, Web applications, file sharing and HD movies, next-generation 100G coherent technology is the compelling next step in optical networking, offering unprecedented resilience to optical transmission impairments across the network.