Sign up for The Skinny from CableFAX - Free Weekly Eletter
Awards --
Call for Entries & Events:

CableMania with Cablefax & AXS TV - April 30
RSVP Today!

Call for Nominations - Top Operators
Nomination Deadline: May 2
Enter Now!

CableFAX's Digital & Tech Summit: May 21
Yale Club | NYC
Register Now!

Call for Entries - Program Awards
Entry Deadline: June 20
Enter Today!

Complete List of Events
Webinars:

Participation TV 2.0: Turning Audience Involvement Into Profit
May 7
Register Now!

Monetizing Social TV: New Tools and Tactics for Success
March 25
On-Demand

---
---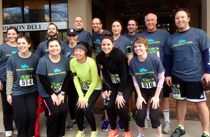 CABLE SHAPES UP! Members of CableFit #teamplatform at NCTA get ready to run a St. Patrick's Day 8K road race, spanning the U.S. Capitol grounds and National Mall on March 9, (back row, l. to r.): Julie Hance, Ethan Buch, Frank Gallagher, Kristin Buch, Steven Morris, Lisa Hamilton, Scot Donaldson, Rob Stoddard, Rick Stoddard; (front row, l. to r.): Kelly Allers, Kat Stewart, Esther Song, Carleigh Blewett, Lisa Otto. NCTA's team finished 11th in a field of 54.







February 19, 2013

What You Need To Know Now...

Aurora Seizes On Harmonic Opportunity, Increases Market Share
Harmonic's decision some six months ago to divest its Cable Access business as part of a plan to concentrate on core competencies is Aurora Networks' gain, with Aurora paying $46 million for the optical-transmission-equipment-business assets that include optical transmitters, amplifiers, receivers and nodes. This is Aurora's third acquisition since 2011, and the company notes it now has doubled its installed node base. Speaking to CTDaily earlier today, John Dahlquist, Aurora's vice president/Marketing, mentioned that because Harmonic's product lines were complementary to those of his company's, there are no plans to make any changes in the acquired gear. However, moving forward, he said Aurora will be making next-generation node modules, such as Node QAM and Node PON, to work with the nodes made by Harmonic.

Rentrak Adds New VoD Tool To Its Audience-Measurement Box
Movie and TVEverywhere audience-measurement maven Rentrak now is offering its Total Audience Viewing Report that combines DVR and VoD viewership information with that of the live TV audience. Each report – and Rentrak says this is an industry first – shows the percentage of increased viewing from the total audience for all ad-supported cable and primetime programming during 7-, 14 and 28-day periods. The reports will be available as an optional series of Rentrak services. Rentrak's maiden report showed that, for cable programs, "Rizzoli & Iles" and "Sons of Anarchy" each saw an additional DVR and VoD playback lift of more than 60 percent within the 28-day total, while "The Real Housewives of Beverly Hills," "Tosh.0," "Haven," "Teen Mom 2," "Burn Notice," "Duck Dynasty" and "Sister Wives" each saw more than half of the total audience after 28 days coming from DVR and VoD.