Sign up for The Skinny from CableFAX - Free Weekly Eletter
Awards --
Call for Entries & Events:

CableFAX Most Powerful Women & Most Influential Minorities in Cable
Deadline: May 17
Free to Nominate

CableFAX Program Awards
Call for Entries: June 21
Enter today!

CableFAXIES & Sales Executive of the Year Awards Breakfast
June 24
Register today!

Complete List of Events

Webinars:

Vine, Viggle, GetGlue:
Leveraging the Newest Social Media Apps to Drive Engagement and Brand Awareness
On-Demand

Capitalizing on Cloud Management and Navigation

Video On Demand Next Practices: Capitalizing on the Latest Innovations
On Demand

Killer Cable Apps: Using Online Games and Apps to Drive Consumer Engagement
On Demand


---
---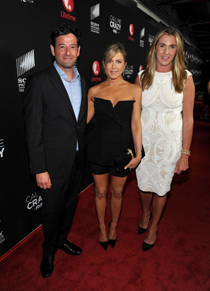 CALL ME CRAZY. On April 16, 2013, Lifetime and Sony Pictures Television held a premiere event for the Lifetime Original Movie "CALL Me Crazy: A Five Film" at the Pacific Design Center in Los Angeles. L to R: Rob Sharenow, evp, Programming, Lifetime Networks; Jennifer Aniston, Executive Producer of "Call Me Crazy"; and Nancy Dubuc, pres, Entertainment and Media, A+E Nets. Debuts April 20, 8pm. Photo by John Shearer/Invision for Lifetime/AP Images.





February 15, 2013

What You Need To Know Now...

Comcast First On MEF Operator CE 2.0 List
Another big win for Comcast this week. The NBCU majority owner, which just inked a deal to buy out GE's remaining stake in the content powerhouse (CTDaily, 02/14/13), achieved a world's first, vetted by the Metro Ethernet Forum (MEF) for Carrier Ethernet 2.0 (CE 2.0) certification for E-Line and E-LAN services. After receiving test results from MEF-authorized Iometrix, the international group certified Comcast Business Class Ethernet Private Line and Comcast Business Class Ethernet Virtual Private Line as CE 2.0 E-Line services, and Comcast Business Class Ethernet Network Service as a CE 2.0 E-LAN service. Another feather in the announcement's cap is that all of Comcast's Ethernet network-equipment suppliers are CE 2.0-certified as well. What this all means is that, as more businesses segue to Ethernet from legacy telecom services, CE 2.0 certifications will help operators and product/service providers alike navigate and interoperate across multiple networks.

Stockholder Suit Challenges Liberty Global/Virgin Media Sale
Virgin Media shareholder Jeff Grimsley and others instigated a class-action suit against members of Virgin Media's board in the Supreme Court of the State of New York, charging it with breaching its fiduciary duties by selling the company to Liberty Global Inc. secretly and cheaply, and precluding any other suitors (CTDaily, 02/05/13). Plaintiffs argue Virgin Media has been doing extremely well, and that the proposed cash price and share swap nowhere near reflect the operator's success. The suit now is in the investigation stage.