CableFAX Contest - Describe the cable industry in 5 words for a chance to win a $50 Amazon gift card!
Sign up for The Skinny from CableFAX - Free Weekly Eletter
Awards --
Call for Entries & Events:

CableFAX's Most Powerful Women in Cable Breakfast
November 21 - NYC
Photos from the Event

CableFAX's Best of the Web & Digital Marketing Awards
Deadline: December 6
Enter Today!

Webinars:

Establish Cable PR and Brand Leadership with Content Marketing
December 17
Register Now!

Selling TV Everywhere: Marketing and PR Strategies to Drive TVE Awareness
On-Demand

---
---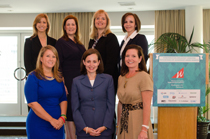 A TOUCH OF LEADERSHIP: At the PowerBrokers Breakfast of the WICT Washington, DC/Baltimore Chapter in Washington, DC on October 29, Touchstones of Leadership Award Honorees, were (top row, L-R) Discovery Comm's Catherine Frymark, Scripps Nets' Suzanne Underwald, Comcast's Samantha Callahan, TWC's Becky Bobzien-Simms, (bottom row, L-R) Travel Channel's Meghan Rodgers, the FCC's Michelle Carey & NBCU's Meredith Attwell Baker.






February 12, 2013

What You Need To Know Now...

How Do America's Broadband Networks Really Rank?
Despite a less-than-stellar global ranking in the past, the Information Technology and Innovation Foundation (ITIF) now says the United States is, in fact, a world leader in several broadband areas, and it's making "significant" progress in improving broadband quality and use as a whole. According to a report released earlier today (http://bit.ly/12b15be), the States are near the top in deployment and adoption of high-speed, wired networks, and they lead in adoption of advanced wireless LTE broadband networks. In addition, U.S. broadband speeds rank in the Top 10. However, the ITIF believes three things: The United States needs to invest "significantly more" in policies and programs to push computer/Internet usage, it needs to do more to expand broadband in high-cost rural areas, and it needs to "more aggressively" transfer underutilized spectrum from the public sector to wireless broadband.

MCTV: Going The Extra 'Smile'
Growth sometimes means rebranding, and Ohio's Massillon Cable TV Inc. and Clear Picture Inc. now will be known collectively as MCTV, providing a unified brand in all of their operating areas. The cableco (chosen as Communication Technology's 2012 System of the Year) worked with Innis Maggiore to determine the new name, business message, logo and slogan – "We go the extra smile" – and the operator's Web site already reflects the results. "While our name and our logo are changing, our commitment to superior customer service remains unwavering," President Robert Gessner said in a statement. "In fact, we fully anticipate our customers will experience continuously improving service and product offerings from MCTV, just as they did under the Massillon Cable TV and Clear Picture names." To get an inside view of MCTV, go to http://bit.ly/159mEsn.