Sign up for The Skinny from CableFAX - Free Weekly Eletter
Awards --
Call for Entries & Events:

CableMania with Cablefax & AXS TV - April 30
RSVP Today!

Call for Nominations - Top Operators
Nomination Deadline: May 2
Enter Now!

CableFAX's Digital & Tech Summit: May 21
Yale Club | NYC
Register Now!

Call for Entries - Program Awards
Entry Deadline: June 20
Enter Today!

Complete List of Events
Webinars:

Participation TV 2.0: Turning Audience Involvement Into Profit
May 7
Register Now!

Monetizing Social TV: New Tools and Tactics for Success
March 25
On-Demand

---
---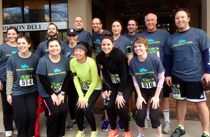 CABLE SHAPES UP! Members of CableFit #teamplatform at NCTA get ready to run a St. Patrick's Day 8K road race, spanning the U.S. Capitol grounds and National Mall on March 9, (back row, l. to r.): Julie Hance, Ethan Buch, Frank Gallagher, Kristin Buch, Steven Morris, Lisa Hamilton, Scot Donaldson, Rob Stoddard, Rick Stoddard; (front row, l. to r.): Kelly Allers, Kat Stewart, Esther Song, Carleigh Blewett, Lisa Otto. NCTA's team finished 11th in a field of 54.







February 11, 2013

What You Need To Know Now...

IT Resellers, Customers Could Profit From 'Relationship Coaching'
With IT products and services on almost every operator's front burner, the new CompTIA Telecom Advisory Council has been tasked with coming up with strategic insight and vendor-neutral guidance when it comes to relationships between agents reselling services and IT firms focusing on data needs. These partnerships could be profitable, the group adds, citing a 2012 study by Channel Partners and CompTIA that found some companies earn as much as 75 percent of their annual revenues from such strategic and tactical collaborations. However, pitfalls include poor communications, no rules of engagement and failure to understand each other's business models. The advisory council is tackling these points, and it will meet at the CompTIA Annual Member Meeting, set for March 12-13 in Chicago. Members so far include Scott Levy, AOTMP, co-chair; Mike Saxby, Communications Management Services, co-chair; Meggin Sawyer, Adtran; and Richard Williams, Verizon.

Harris' Plans To Turn Platinum Into Gold
Harris Broadcast is crowing about Platinum IP3 router, purported to be the only machine that can handle separate video, audio and data paths within the same frame. The company also says the gear is the first to scale to multiframe configurations for very large media operations by using a common architecture, thus making installation easier and helping to cut down on cabling/components costs. While shipping now, the router won't make its official debut until the CABSAT 2013 show in Dubai next month. More specs: multiformat signal routing to 576x1024 in a single 28RU frame; scaling to at least 2048x2048 in multiframe configurations without external distribution amps or combiners; and perhaps the most important feature – stations don't have to go dark as they scale into multiple frame systems.