Sign up for The Skinny from CableFAX - Free Weekly Eletter
Awards --
Call for Entries & Events:

CableMania with Cablefax & AXS TV - April 30
RSVP Today!

Call for Nominations - Top Operators
Nomination Deadline: May 2
Enter Now!

CableFAX's Digital & Tech Summit: May 21
Yale Club | NYC
Register Now!

Call for Entries - Program Awards
Entry Deadline: June 20
Enter Today!

Complete List of Events
Webinars:

Participation TV 2.0: Turning Audience Involvement Into Profit
May 7
Register Now!

Monetizing Social TV: New Tools and Tactics for Success
March 25
On-Demand

---
---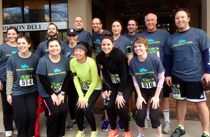 CABLE SHAPES UP! Members of CableFit #teamplatform at NCTA get ready to run a St. Patrick's Day 8K road race, spanning the U.S. Capitol grounds and National Mall on March 9, (back row, l. to r.): Julie Hance, Ethan Buch, Frank Gallagher, Kristin Buch, Steven Morris, Lisa Hamilton, Scot Donaldson, Rob Stoddard, Rick Stoddard; (front row, l. to r.): Kelly Allers, Kat Stewart, Esther Song, Carleigh Blewett, Lisa Otto. NCTA's team finished 11th in a field of 54.







February 8, 2013

What You Need To Know Now...

Rutledge To Optimum West: Miss Me Much?
Charter Communications Operating LLC (part of Charter Communications) now is in the process of acquiring Cablevision's Bresnan Broadband Holdings LLC (dba Optimum West) in a cash deal worth more than $1.6 billion. A little more than two years ago, Cablevision bought the Bresnan properties for nearly $1.4 billion and what's funny about this whole thing is that Charter President/CEO Tom Rutledge was COO at Cablevision at the time of the Bresnan purchase. Optimum West operates in Colorado, Montana, Wyoming and Utah, passing more than 660,000 homes and serving 304,000 video subs. The deal should close sometime in the third quarter. Other rumored suitors for the properties were Time Warner Cable and Suddenlink.

Researchers Ramp Up Downtime Protections
By agreeing to provide reciprocal tie-line backup services via two global 10 Gbps connections, Internet-based research collaborations involving the United States, Europe and China will be safeguarded from critical disruptions. ORIENTplus, Internet2, TransPAC3 and CERNET signed the deal last month. U.S. and Chinese scientists connect via a 10 Gbps trans-Pacific connection linking Los Angeles to Beijing and operated by the Indiana University-based TransPAC3 project (funded by the U.S. National Science Foundation). In the event of outages or cable cuts on any one network route, traffic will be rerouted instantly, thus minimizing any disruption to European and U.S. researchers working with their Chinese peers. Current collaborations using these routes include the Large Hadron Collider, the Shanghai Astronomical Observatory, and joint EU/China and China/U.S. genome projects.