CableFAX Contest - Describe the cable industry in 5 words for a chance to win a $50 Amazon gift card!
Sign up for The Skinny from CableFAX - Free Weekly Eletter
Awards --
Call for Entries & Events:

CableFAX's Most Powerful Women in Cable Breakfast
November 21 - NYC
Photos from the Event

CableFAX's Best of the Web & Digital Marketing Awards
Deadline: December 6
Enter Today!

Webinars:

How to Profit from Content Marketing in Cable
December 17
Register Now!

Selling TV Everywhere: Marketing and PR Strategies to Drive TVE Awareness
On-Demand

---
---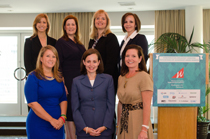 A TOUCH OF LEADERSHIP: At the PowerBrokers Breakfast of the WICT Washington, DC/Baltimore Chapter in Washington, DC on October 29, Touchstones of Leadership Award Honorees, were (top row, L-R) Discovery Comm's Catherine Frymark, Scripps Nets' Suzanne Underwald, Comcast's Samantha Callahan, TWC's Becky Bobzien-Simms, (bottom row, L-R) Travel Channel's Meghan Rodgers, the FCC's Michelle Carey & NBCU's Meredith Attwell Baker.






February 8, 2013

What You Need To Know Now...

Rutledge To Optimum West: Miss Me Much?
Charter Communications Operating LLC (part of Charter Communications) now is in the process of acquiring Cablevision's Bresnan Broadband Holdings LLC (dba Optimum West) in a cash deal worth more than $1.6 billion. A little more than two years ago, Cablevision bought the Bresnan properties for nearly $1.4 billion and what's funny about this whole thing is that Charter President/CEO Tom Rutledge was COO at Cablevision at the time of the Bresnan purchase. Optimum West operates in Colorado, Montana, Wyoming and Utah, passing more than 660,000 homes and serving 304,000 video subs. The deal should close sometime in the third quarter. Other rumored suitors for the properties were Time Warner Cable and Suddenlink.

Researchers Ramp Up Downtime Protections
By agreeing to provide reciprocal tie-line backup services via two global 10 Gbps connections, Internet-based research collaborations involving the United States, Europe and China will be safeguarded from critical disruptions. ORIENTplus, Internet2, TransPAC3 and CERNET signed the deal last month. U.S. and Chinese scientists connect via a 10 Gbps trans-Pacific connection linking Los Angeles to Beijing and operated by the Indiana University-based TransPAC3 project (funded by the U.S. National Science Foundation). In the event of outages or cable cuts on any one network route, traffic will be rerouted instantly, thus minimizing any disruption to European and U.S. researchers working with their Chinese peers. Current collaborations using these routes include the Large Hadron Collider, the Shanghai Astronomical Observatory, and joint EU/China and China/U.S. genome projects.