Sign up for The Skinny from CableFAX - Free Weekly Eletter
Awards --
Call for Entries & Events:

CableMania with Cablefax & AXS TV - April 30
RSVP Today!

Call for Nominations - Top Operators
Nomination Deadline: May 2
Enter Now!

CableFAX's Digital & Tech Summit: May 21
Yale Club | NYC
Register Now!

Call for Entries - Program Awards
Entry Deadline: June 20
Enter Today!

Complete List of Events
Webinars:

Participation TV 2.0: Turning Audience Involvement Into Profit
May 7
Register Now!

Monetizing Social TV: New Tools and Tactics for Success
March 25
On-Demand

---
---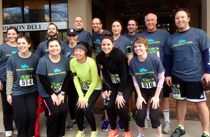 CABLE SHAPES UP! Members of CableFit #teamplatform at NCTA get ready to run a St. Patrick's Day 8K road race, spanning the U.S. Capitol grounds and National Mall on March 9, (back row, l. to r.): Julie Hance, Ethan Buch, Frank Gallagher, Kristin Buch, Steven Morris, Lisa Hamilton, Scot Donaldson, Rob Stoddard, Rick Stoddard; (front row, l. to r.): Kelly Allers, Kat Stewart, Esther Song, Carleigh Blewett, Lisa Otto. NCTA's team finished 11th in a field of 54.







January 28, 2013

What You Need To Know Now...

Homeplug AV2, MoCA 2.0 Sales: Baby Steps
This is the year HomePlug AV2 and MoCA 2.0 standards-based gear is expected to take off, offering higher speeds as well as more robustness under different line conditions. However, cautions ABI Research, not all devices shipped with the new standards will support all features, so many will not offer gigabit speeds. North American MoCA households will top 25 million by 2014, while Homeplug will garner similar numbers in Western Europe. In order to make a go of "no new wires" home networking moving forward, pay-TV operators have to embrace a hybrid-networking platform to garner new subscribers. Vendors ready to help with integrated STB products include Entropic, Broadcom, STMicro and MStar. However, the research group note, price still seems to be a consumer barrier to adoption.

AT&T and Verizon: The New U.S. Duopoly?
Late last week, AT&T inked a deal with Verizon, offering nearly $2 billion for 39 lower 700 MHz licenses B Block licenses covering 18 states. On the flip side, AT&T is transferring 10-megahertz AWS licenses to Verizon in Los Angeles and Fresno; in Phoenix; and in Portland, Ore. Notes Jeffrey Silva, senior policy director/Telecommunications, Media and Technology at Medley Global Advisors LLC, the FCC and Justice may have a problem with such dealings between the Number One (Verizon) and Number Two (AT&T) U.S. wireless carriers relative to others in the competitive field; right now, Silva says, the FCC's proposal to revise the "spectrum screen" (the regulatory tool used in analyzing wireless M&A), "including the possibility of according greater weight to spectrum below 1 GHz," could impact these acquisitions. The sales could close during the last half of 2013, but Harold Feld, watchdog Public Knowledge's senior vice president, believes "this proposed sale only continues the wireless market's spiral into a duopoly between AT&T and Verizon."

ACA Says FCC's Rural Broadband Map Is Off-Course
The ACA filed additional broadband map data with the FCC concerning locations in rural markets served by ACA members, saying its numbers "rebut assertions by some price-cap telecommunications carriers that these locations were actually unserved and thus are eligible for Connect America Fund Phase I support." As such, ACA has asked the commission to correct the map and to dismiss any challenges to ACA members. Cable One identified 338 census blocks an incumbent listed as unserved, although Cable One is providing service. Similar data reportedly were submitted by Armstrong Utilities Inc., Massillon Cable TV and Nittany Media Inc.