CableFAX Contest - Describe the cable industry in 5 words for a chance to win a $50 Amazon gift card!
Sign up for The Skinny from CableFAX - Free Weekly Eletter
Awards --
Call for Entries & Events:

CableFAX's Most Powerful Women in Cable Breakfast
November 21 - NYC
Photos from the Event

CableFAX's Best of the Web & Digital Marketing Awards
Deadline: December 6
Enter Today!

Webinars:

Establish Cable PR and Brand Leadership with Content Marketing
December 17
Register Now!

Selling TV Everywhere: Marketing and PR Strategies to Drive TVE Awareness
On-Demand

---
---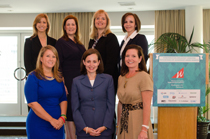 A TOUCH OF LEADERSHIP: At the PowerBrokers Breakfast of the WICT Washington, DC/Baltimore Chapter in Washington, DC on October 29, Touchstones of Leadership Award Honorees, were (top row, L-R) Discovery Comm's Catherine Frymark, Scripps Nets' Suzanne Underwald, Comcast's Samantha Callahan, TWC's Becky Bobzien-Simms, (bottom row, L-R) Travel Channel's Meghan Rodgers, the FCC's Michelle Carey & NBCU's Meredith Attwell Baker.






January 16, 2013

What You Need To Know Now...

Another Take On The Broadband Competition Sandbox
A new report just released by Pyramid Research presents some interesting global predictions and trends for the coming year, including more 4G spectrum allocations, especially in emerging markets that have been watching how the rest of the world has been handling the next-gen deployments; the beginning of the end for unlimited data pricing, but continued wireless-device subsidies; and a competition shift from coverage to content and services, with infrastructure sharing intensifying (more coop-etition?). This possibly could lead to more vendors working with vendors, operators working with operators and operators working with vendors to better serve the broadband market.