Sign up for The Skinny from CableFAX - Free Weekly Eletter
Awards --
Call for Entries & Events:

CableMania with Cablefax & AXS TV - April 30
RSVP Today!

Call for Nominations - Top Operators
Nomination Deadline: May 2
Enter Now!

CableFAX's Digital & Tech Summit: May 21
Yale Club | NYC
Register Now!

Call for Entries - Program Awards
Entry Deadline: June 20
Enter Today!

Complete List of Events
Webinars:

Participation TV 2.0: Turning Audience Involvement Into Profit
May 7
Register Now!

Monetizing Social TV: New Tools and Tactics for Success
March 25
On-Demand

---
---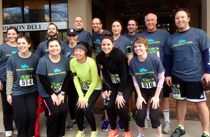 CABLE SHAPES UP! Members of CableFit #teamplatform at NCTA get ready to run a St. Patrick's Day 8K road race, spanning the U.S. Capitol grounds and National Mall on March 9, (back row, l. to r.): Julie Hance, Ethan Buch, Frank Gallagher, Kristin Buch, Steven Morris, Lisa Hamilton, Scot Donaldson, Rob Stoddard, Rick Stoddard; (front row, l. to r.): Kelly Allers, Kat Stewart, Esther Song, Carleigh Blewett, Lisa Otto. NCTA's team finished 11th in a field of 54.







January 16, 2013

What You Need To Know Now...

Another Take On The Broadband Competition Sandbox
A new report just released by Pyramid Research presents some interesting global predictions and trends for the coming year, including more 4G spectrum allocations, especially in emerging markets that have been watching how the rest of the world has been handling the next-gen deployments; the beginning of the end for unlimited data pricing, but continued wireless-device subsidies; and a competition shift from coverage to content and services, with infrastructure sharing intensifying (more coop-etition?). This possibly could lead to more vendors working with vendors, operators working with operators and operators working with vendors to better serve the broadband market.