Sign up for The Skinny from CableFAX - Free Weekly Eletter
Awards --
Call for Entries & Events:

CableFAX Most Powerful Women & Most Influential Minorities in Cable
Deadline: May 17
Free to Nominate

CableFAX Program Awards
Call for Entries: June 21
Enter today!

CableFAXIES & Sales Executive of the Year Awards Breakfast
June 24
Register today!

Complete List of Events

Webinars:

Vine, Viggle, GetGlue:
Leveraging the Newest Social Media Apps to Drive Engagement and Brand Awareness
On-Demand

Capitalizing on Cloud Management and Navigation

Video On Demand Next Practices: Capitalizing on the Latest Innovations
On Demand

Killer Cable Apps: Using Online Games and Apps to Drive Consumer Engagement
On Demand


---
---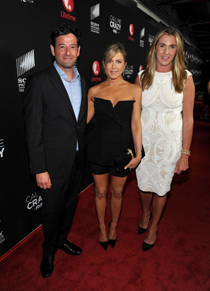 CALL ME CRAZY. On April 16, 2013, Lifetime and Sony Pictures Television held a premiere event for the Lifetime Original Movie "CALL Me Crazy: A Five Film" at the Pacific Design Center in Los Angeles. L to R: Rob Sharenow, evp, Programming, Lifetime Networks; Jennifer Aniston, Executive Producer of "Call Me Crazy"; and Nancy Dubuc, pres, Entertainment and Media, A+E Nets. Debuts April 20, 8pm. Photo by John Shearer/Invision for Lifetime/AP Images.





January 11, 2013

What You Need To Know Now...

The Hopper Tripped Up At CES Awards Program
DISH Network was taken out of the running for a possible CNET award for introducing one of the best products at this week's CES; that opportunity was snatched away right before the ceremony last night due to pressure from CNET parent CBS Corp., which is suing DISH in California regarding the Hopper. "The DISH Hopper with Sling was removed from consideration due to active litigation involving our parent company CBS Corp," a CNET statement said. "We will no longer be reviewing products manufactured by companies with which we are in litigation with respect to such product." Answered a disappointed DISH President/CEO Joe Clayton, "We are saddened that CNET's staff is being denied its editorial independence because of CBS' heavy-handed tactics. This action has nothing to do with the merits of our new product. Hopper with Sling is all about consumer choice and control over the TV experience. That CBS, which owns CNET.com, would censor that message is insulting to consumers."

Simpler Networks Needed For The 'Internet Of Things'
IP-based standards ultimately will lead the way when it comes to building out next-gen Smart Grid and Smart Energy networks for the connected home, according to the UPnP Forum. With more than a billion additional UPnP Audio/Video products expected to be shipped by 2014, the group says now is the time for network operators to simplify the connectivity and usability of electronic devices and services within the home to enable the Internet of Things. Forum officials appearing at this week's CES touted UPnP-certified devices that work on existing home networks for providing a bridge that allows utilities and service providers to communicate via a private IP backbone with their customers. Evolving UPnP Forum standards will allow hardware/software developers to offer secure multivendor operator/subscriber gear that works with both Smart Grid and Smart Energy platforms.