CableFAX Contest - Describe the cable industry in 5 words for a chance to win a $50 Amazon gift card!
Sign up for The Skinny from CableFAX - Free Weekly Eletter
Awards --
Call for Entries & Events:

CableFAX's Most Powerful Women in Cable Breakfast
November 21 - NYC
Photos from the Event

CableFAX's Best of the Web & Digital Marketing Awards
Deadline: December 6
Enter Today!

Webinars:

Establish Cable PR and Brand Leadership with Content Marketing
December 17
Register Now!

Selling TV Everywhere: Marketing and PR Strategies to Drive TVE Awareness
On-Demand

---
---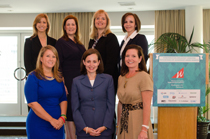 A TOUCH OF LEADERSHIP: At the PowerBrokers Breakfast of the WICT Washington, DC/Baltimore Chapter in Washington, DC on October 29, Touchstones of Leadership Award Honorees, were (top row, L-R) Discovery Comm's Catherine Frymark, Scripps Nets' Suzanne Underwald, Comcast's Samantha Callahan, TWC's Becky Bobzien-Simms, (bottom row, L-R) Travel Channel's Meghan Rodgers, the FCC's Michelle Carey & NBCU's Meredith Attwell Baker.






February 15, 2013

Research & Analytics...

Price Declines Will Drive 10 Gbps Server Ports
According to Dell'Oro Group, 10 Gbps server ports are expected to grow more than five-fold by 2017. Sameh Boujelbene, senior analyst/Controller & Adapter markets, said the group forecasts a price decline in 10 Gbps switches during the first six months of this year, driven by a switch-refresh cycle based on Broadcom Trident II switch silicon. This reportedly will propel 10 Gbps server adoption because switches that aggregate servers comprise more than one-third of the end-to-end price. Dell'Oro also predicts server migration to 40 Gbps will speed up as higher-density switches come to market, and as service providers or cloud services become larger customer segments.