CableFAX Contest - Describe the cable industry in 5 words for a chance to win a $50 Amazon gift card!
Sign up for The Skinny from CableFAX - Free Weekly Eletter
Awards --
Call for Entries & Events:

CableFAX's Most Powerful Women in Cable Breakfast
November 21 - NYC
Photos from the Event

CableFAX's Best of the Web & Digital Marketing Awards
Deadline: December 6
Enter Today!

Webinars:

Establish Cable PR and Brand Leadership with Content Marketing
December 17
Register Now!

Selling TV Everywhere: Marketing and PR Strategies to Drive TVE Awareness
On-Demand

---
---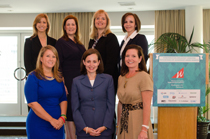 A TOUCH OF LEADERSHIP: At the PowerBrokers Breakfast of the WICT Washington, DC/Baltimore Chapter in Washington, DC on October 29, Touchstones of Leadership Award Honorees, were (top row, L-R) Discovery Comm's Catherine Frymark, Scripps Nets' Suzanne Underwald, Comcast's Samantha Callahan, TWC's Becky Bobzien-Simms, (bottom row, L-R) Travel Channel's Meghan Rodgers, the FCC's Michelle Carey & NBCU's Meredith Attwell Baker.






February 12, 2013

Research & Analytics...

Why LTE May Not Solve Congestion Woes
While LTE technology performs well now, that probably will change as congestion increases, according to a new Actix study. Here's more: Smartphones on 3G networks spend almost 85 percent of their active time generating data traffic and only 10 percent of it on voice; data sessions in congested areas often fall to less than video-ready speeds; Apple subscribers use more data per session than do Android subs, with BlackBerry subs using 50 percent less data than Android and 30 percent less than Apple; 20 percent of locations garner 80 percent of network traffic, while 5 percent account for more than half of that traffic; and data rates drop off by as much as 50 percent when users go indoors, due to increasing network congestion. To read the entire report, contact marketing@actix.com.

Beam-Forming Small Cells And HetNets
A joint NEC/Ubidyne report tracks the impact of 3D beam-forming small cells on the latest active antenna technology by benchmarking passive small cells with active beam-forming small cells that could be part of future LTE/4G heterogeneous networks (HetNets). The background: An active 3D beam-forming small cell comprises several antenna elements and transceivers arranged in a matrix enabling flexible vertical and horizontal beam-forming, including beam shaping independent in the downlink and uplink. The two say 3D beam-forming can lead to an average 40-percent macrocell load reduction (aka offloading). Beam-forming also can help reduce intercell interference. The paper can be downloaded from www.nec.com/lte.