CableFAX Contest - Describe the cable industry in 5 words for a chance to win a $50 Amazon gift card!
Sign up for The Skinny from CableFAX - Free Weekly Eletter
Awards --
Call for Entries & Events:

CableFAX's Most Powerful Women in Cable Breakfast
November 21 - NYC
Photos from the Event

CableFAX's Best of the Web & Digital Marketing Awards
Deadline: December 6
Enter Today!

Webinars:

Establish Cable PR and Brand Leadership with Content Marketing
December 17
Register Now!

Selling TV Everywhere: Marketing and PR Strategies to Drive TVE Awareness
On-Demand

---
---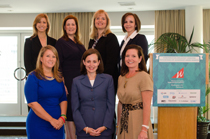 A TOUCH OF LEADERSHIP: At the PowerBrokers Breakfast of the WICT Washington, DC/Baltimore Chapter in Washington, DC on October 29, Touchstones of Leadership Award Honorees, were (top row, L-R) Discovery Comm's Catherine Frymark, Scripps Nets' Suzanne Underwald, Comcast's Samantha Callahan, TWC's Becky Bobzien-Simms, (bottom row, L-R) Travel Channel's Meghan Rodgers, the FCC's Michelle Carey & NBCU's Meredith Attwell Baker.






February 4, 2013

Research & Analytics...

UK Customers Say ISPs are Tricky

Nearly 9 out of 10 respondents to ISPreview.co.uk's monthly reader survey believe that big broadband ISPs in the UK mislead consumers with their advertising. Speed/performance easily ranked as the area the public feels most deceived about (75%), followed by price (12.8%), reliability (6.8%) and support (5.2%). Stateside, NAD (administered by the Council of Better Business Bureaus) recommended in Sept that Verizon modify some of its ads that convey what it called the "falsely disparaging, unsupported message" that cable Internet service is significantly slower.

Small Cells Gaining Traction

As more of us turn to our mobile devices for video and data needs, small cells are stepping up in a big way. By the end of '17, small cells are expected to have about 19% of the overall capacity of macro base stations, said Multimedia Research Group. In other changes, fiber is replacing T1 lines. Microwave radios are the most popular last-mile backhaul medium, but by the end of '16 there will be more macro base stations connected by fiber than microwave radios.