Sign up for The Skinny from CableFAX - Free Weekly Eletter
Awards --
Call for Entries & Events:

CableFAX Most Powerful Women & Most Influential Minorities in Cable
Deadline: May 17
Free to Nominate

CableFAX Program Awards
Call for Entries: June 21
Enter today!

CableFAXIES & Sales Executive of the Year Awards Breakfast
June 24
Register today!

Complete List of Events

Webinars:

Vine, Viggle, GetGlue:
Leveraging the Newest Social Media Apps to Drive Engagement and Brand Awareness
On-Demand

Capitalizing on Cloud Management and Navigation

Video On Demand Next Practices: Capitalizing on the Latest Innovations
On Demand

Killer Cable Apps: Using Online Games and Apps to Drive Consumer Engagement
On Demand


---
---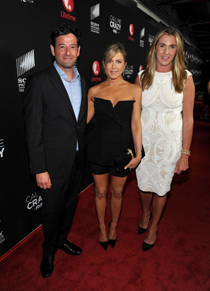 CALL ME CRAZY. On April 16, 2013, Lifetime and Sony Pictures Television held a premiere event for the Lifetime Original Movie "CALL Me Crazy: A Five Film" at the Pacific Design Center in Los Angeles. L to R: Rob Sharenow, evp, Programming, Lifetime Networks; Jennifer Aniston, Executive Producer of "Call Me Crazy"; and Nancy Dubuc, pres, Entertainment and Media, A+E Nets. Debuts April 20, 8pm. Photo by John Shearer/Invision for Lifetime/AP Images.





February 1, 2013

Research & Analytics...

Small Businesses Drive Enterprise Cloud Sales
The worldwide market for enterprise cloud-based services will grow from $18.3 billion last year to nearly $32 billion in 2017, Analysys Mason predicts. SaaS accounted for 66 percent of the revenue pie in 2012, while 33 percent was related to infrastructure-as-a-service (IaaS). This revenue split will change during the next five years, with the IaaS share increasing to 43 percent. Service providers will garner a larger share of enterprise cloud sales as they bundle more offerings with core connectivity. Small businesses (up to 249 staff) bought 43 percent of the cloud services last year (due in part to fewer security-related concerns, the group says), and that number will grow to nearly 50 percent by 2017.