CableFAX Contest - Describe the cable industry in 5 words for a chance to win a $50 Amazon gift card!
Sign up for The Skinny from CableFAX - Free Weekly Eletter
Awards --
Call for Entries & Events:

CableFAX's Most Powerful Women in Cable Breakfast
November 21 - NYC
Photos from the Event

CableFAX's Best of the Web & Digital Marketing Awards
Deadline: December 6
Enter Today!

Webinars:

Establish Cable PR and Brand Leadership with Content Marketing
December 17
Register Now!

Selling TV Everywhere: Marketing and PR Strategies to Drive TVE Awareness
On-Demand

---
---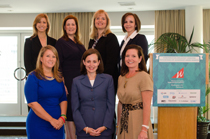 A TOUCH OF LEADERSHIP: At the PowerBrokers Breakfast of the WICT Washington, DC/Baltimore Chapter in Washington, DC on October 29, Touchstones of Leadership Award Honorees, were (top row, L-R) Discovery Comm's Catherine Frymark, Scripps Nets' Suzanne Underwald, Comcast's Samantha Callahan, TWC's Becky Bobzien-Simms, (bottom row, L-R) Travel Channel's Meghan Rodgers, the FCC's Michelle Carey & NBCU's Meredith Attwell Baker.






January 23, 2013

Research & Analytics...

Enhanced DVB-2 Standard Could Mean More Money
A survey conducted by satellite specialist Newtec found that 98 percent of respondents regard soon-to-be-rolled-out extensions of the existing DVB-S2 standard (adopted in 2005) as "very important," while 35 percent acknowledge that they will "help" the industry as a whole to reduce costs of both equipment and bandwidth. Any new services that include the ramped standard could result in a gain of as 64 percent compared to DVB-S2, Newtec adds. For satellite businesses, the creation and adoption of these extensions could translate to higher efficiency, higher speed and greater service robustness, thus increasing revenues.

Once Again, Software Sales May Top Hardware In 2013
According to International Data Corporation (IDC), eight of the top global networking vendors – collectively generating an estimated $124 billion in 2012 revenue or approximately 90 percent of total worldwide network infrastructure revenue – this year are focusing on professional services and software enhancements to tap into more client opex budgets in addition to their capex. And the challenge is to get more money out of operators that want to cut 2013 costs. It looks like most sales will hinge on SDNs and related software, rather than hardware, to accomplish vendor/operator goals. As things look now, Ericsson and Huawei continue to be the overall global telecom-product revenue leaders from 2010 through the first half of 2012, with Huawei poised to be the 2013 market leader. Other players include Cisco, Juniper and Ciena.