Sign up for The Skinny from CableFAX - Free Weekly Eletter
Awards --
Call for Entries & Events:

CableFAXIES Awards
More Information

CableMania: A Magical Mystery Tour with Cablefax & AXS TV - April 30
RSVP Today!

CableFAX Tech Breakfast & Roundtable - May 1
Complimentary Registration!

Call for Nominations - Top Operators
Nomination Deadline: May 2
Enter Now!

CableFAX's Digital & Tech Summit: May 21
Yale Club | NYC
Register Now!

Complete List of Events
Webinars:

Complimentary Webinar:
Boost Viewer Engagement with Entertainment Metadata
April 16
Register for Free

Participation TV 2.0: Turning Audience Involvement Into Profit
May 7
Register Now!

Monetizing Social TV: New Tools and Tactics for Success
March 25
On-Demand

---
---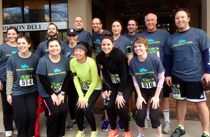 CABLE SHAPES UP! Members of CableFit #teamplatform at NCTA get ready to run a St. Patrick's Day 8K road race, spanning the U.S. Capitol grounds and National Mall on March 9, (back row, l. to r.): Julie Hance, Ethan Buch, Frank Gallagher, Kristin Buch, Steven Morris, Lisa Hamilton, Scot Donaldson, Rob Stoddard, Rick Stoddard; (front row, l. to r.): Kelly Allers, Kat Stewart, Esther Song, Carleigh Blewett, Lisa Otto. NCTA's team finished 11th in a field of 54.







January 23, 2013

Research & Analytics...

Enhanced DVB-2 Standard Could Mean More Money
A survey conducted by satellite specialist Newtec found that 98 percent of respondents regard soon-to-be-rolled-out extensions of the existing DVB-S2 standard (adopted in 2005) as "very important," while 35 percent acknowledge that they will "help" the industry as a whole to reduce costs of both equipment and bandwidth. Any new services that include the ramped standard could result in a gain of as 64 percent compared to DVB-S2, Newtec adds. For satellite businesses, the creation and adoption of these extensions could translate to higher efficiency, higher speed and greater service robustness, thus increasing revenues.

Once Again, Software Sales May Top Hardware In 2013
According to International Data Corporation (IDC), eight of the top global networking vendors – collectively generating an estimated $124 billion in 2012 revenue or approximately 90 percent of total worldwide network infrastructure revenue – this year are focusing on professional services and software enhancements to tap into more client opex budgets in addition to their capex. And the challenge is to get more money out of operators that want to cut 2013 costs. It looks like most sales will hinge on SDNs and related software, rather than hardware, to accomplish vendor/operator goals. As things look now, Ericsson and Huawei continue to be the overall global telecom-product revenue leaders from 2010 through the first half of 2012, with Huawei poised to be the 2013 market leader. Other players include Cisco, Juniper and Ciena.